Of C-187 and they're Collision
La verdad es que el humano no se llevara nunca bien
con el cambio, siempre hay algo que les hace difícil
dar aquel paso.Eso pasa en todos los ámbitos de la vida y no soy la
excepción, pero cuando hablamos de música la verdad
es que me puedo considerar una persona que le gusta
lo diferente.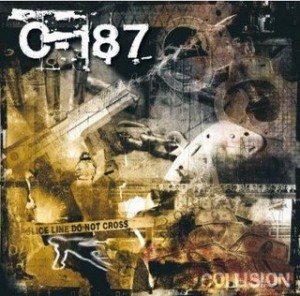 Hago esta pequeña introducción para que tengan una idea
de lo difícil que para muchos se les hace o se le ha hecho
digerir la producción de C-187, Collision. Es tan diferente
a lo que estamos acostumbrados que el "metaliquito" de una
vez lo rechaza.
Por suerte Patrick Mameli debe saber esto pues esa misma
historia le ocurrió con el Spheres de Pestilence, para mi
uno de los mejores álbums del todos los tiempos.
Collision es un álbum pesado, desde el principio
te deja enganchado con la canción que da titulo al álbum.
Lo que sobresale en este álbum que a tantas personas no
soportan son las voces y las letras, las cuales han sido denominado
como Gansta Metal, las cuales a mi entender no distan mucho del
metalcore y le dan un sabor de diferencia y buena vibra a la producción.
Es un álbum que recomiendo con los ojos cerrados y que hay que
escuchar, recomiendo sobre todo las canciones que se encuentran
en su pagina : Collision, Roadbloack (D.O.A.) y
P.C.P. (Murda in My Head).
Escucha C-187 online en http://www.c-187.com
Update
Agrego un interesante review que encontré online.
disagreement
Haz Click aqui para enviar a un amigo