Punisher: War Zone (2008)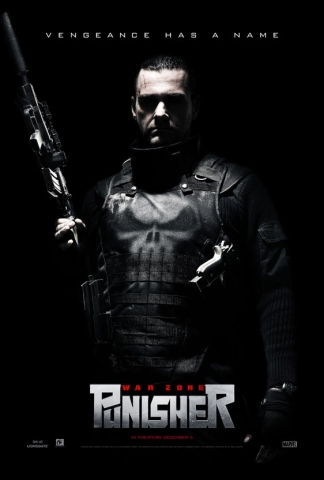 No se en que momento fue que la gente de Lions Gate se dieron cuenta que la sangre vendé, creo que fue con SAW, de ahí en adelante ha sido una carnicería constante que nos brindan, claro cabe destacar que cuando le ponen un poco de empeño la cosa suele salir bien.
La primera parte de The Punisher sabemos que fue un clavo de proporciones mayores, sin embargo esta segunda parte no lo es, tampoco es que es una excelente producción, de hecho me ha dejado totalmente confundido porque así como no me gusto, me gusto.
A ver la historia.
Como sabemos Titus Pullo The Punisher (Ray Stevenson) esta cazando a todos los criminales de la ciudad de Roma New York, en venganza por la muerte de su familia, hasta ahora nadie ha logrado hacerle frente, excepto por una nueva amenaza creada por el mismo, Billy Russoti / Jigsaw (Dominic West). Jigsaw estará acompañado de un super psicópata, sacado de un manicomio, su propio hermano Loony Bin Jim (Doug Hutchison).
Luego de sin querer asesinara a un detective encubierto del FBI, se preguntara si vale la pena continuar con la matanza, sobre todo al saber que ha cruzado la línea, sin embargo luego se dará cuenta que solo asi puede proteger a los indefensos, como es el caso de la familia del agente del FBI muerto, quienes serán perseguidos y capturados por Jigsaw en busca de un dinero que este le dio.
Aquí hay algunas cosas que me molestan, esta problemas de logica, problemas escenas donde simplemente se pasan, por ejemplo The Punisher le da un trompon a un pana y traspasa la estructura osea del mismo. La cosa es que hay muchos errores en la trama y en la película, la edición no me gusto para nada, parecía una película de TV mal hecha.
Sin embargo a la vez la música es entretenida, el sangrerio y todo lo demás te puede atrapar por momentos (si porque quería que se acabara). La cosa es que si usted sabe lo que va a ver, hágalo sin problemas pero sino aléjese de la misma.
Si usted no tiene estomagó para este tipo de cine no se aparezca por ahí.
Le doy un Rating:
En IMDB le dan un Rating:
Haz Click aqui para enviar a un amigo