Underworld: Rise of the Lycans (2009)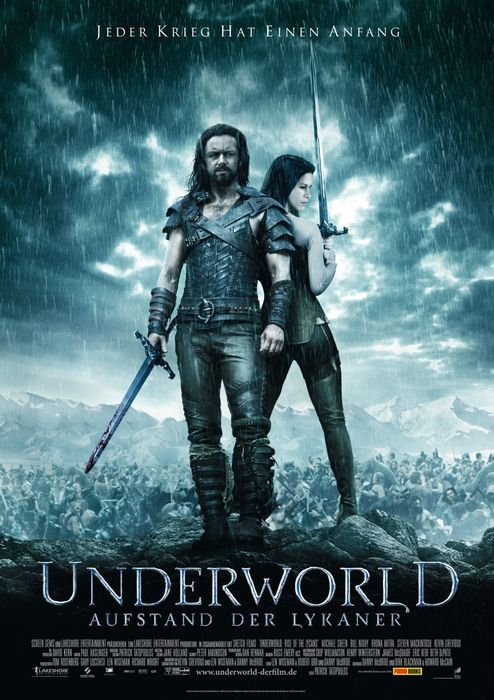 Tercera entrega de la famosa saga de Vampiros y Hombres Lobos, cabe destacar que se trata de una precuela, osea la historia transcurre antes que la primera parte de la saga.
La historia se centra en la aristocracia vampirica de siglos atrás y de los que en aquel entonces eran sus esclavos, los hombres lobos.
En aquel entonces el bebe de una mujer lobo queda huérfano cuando sus padres son asesinados, la muerte también le correspondía a el, pero por "bondad", el entonces jefe del clan de los Vampiros Viktor (Bill Nighy) le perdona la vida, y no tan solo eso, sino que le criara con privilegios sobre los demás.
Algo con lo que Viktor nunca contó (ni nadie mas del clan o que estuviera en sus cabales) es que su única hija, Sonja (Rhona Mitra) tuviera una relación con este.
Por un tiempo pudieron esconder la relación, pero el tiempo de los hombres lobos llegaría, cuando Lucían (Michael Sheen) cansado de los maltratos a los de su especie se revele y se convierta en el líder de esta raza.
En esta guerra a Sonja le tocara tomar parte de la misma y tendrá que elegir uno de los bandos, en este caso el de su amante por encima de el de su padre y su propia especie.
Nunca he sido amante de esta saga pero debo decir que para mi sorpresa quedo muy bien, aunque claro, tal vez tenia que ver con el hecho de que no esperaba mucho de la misma. Sea como sea, disfrute de la misma y logra entretener.
Algo que debo destacar es la manera en que el final fue unido al principio de la primera parte de saga, les quedo excelente, de hecho espero que cada vez que se haga una precuela se una de esta manera.
Vean el Trailer Oficial
Disfrútenla!
Torrent Link
Underworld: Rise of the Lycans (2009) DVD Rip
Underworld: Rise of the Lycans (2009) HD
Le doy un Rating:
En IMDB le dan un Rating:
Haz Click aqui para enviar a un amigo