Lars And The Real Girl (2007)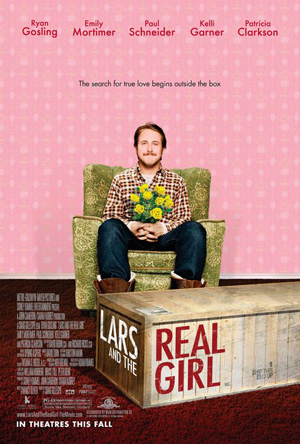 Verán, Lars (Ryan Gosling) es un tipo introvertido con un pequeñito problema (ok no tan pequeño, Ok then A Hugeee), se ha recluido a si mismo de las relaciones interpersonales.
Osea Lars es una persona normal en el sentido completo de la palabra, trabaja, vive bien, se comunica claramente, pero no me permite que le toquen, y aparte de su trabajo no habla ni socializa con nadie, aunque vaya los domingos siempre a misa.
Todo tiene un ritmo pre-establecido, hasta que Lars es visitado por una mujer, religiosa, con valores morales muy profundos pero con un cuerpo "hecho a la medida" de tu imaginación. Tampoco esto fuera tan extraordinario si no fuera porque dicha mujer no es humana.
En principio Lars sera tildado como un loco, pero cuando su hermano Gus (Paul Schneider) y su esposa Karin (Emily Mortimer) deciden llevar a "Bianca" al doctor aprovecharan para que la doctora Dagmar (Patricia Clarkson) también ayude a Lars.
La terapia consistirá en seguirle el "juego" a Lars, y pasara los mas extraño cuando todo el mundo se encariñe con Bianca y Lars descubra otras cosas que se estaba perdiendo.
Una película de ciencia ficción bien interesante, al principio es un poco aburrida pero luego se torna interesante cuando todos quieren formar parte de la vida de Lars.
Muy buena las actuaciones de Ryan en esta película.
Le doy un Rating:
En IMDB le dan un Rating:
Haz Click aqui para enviar a un amigo