The Chronicles of Narnia: Prince Caspian (2008)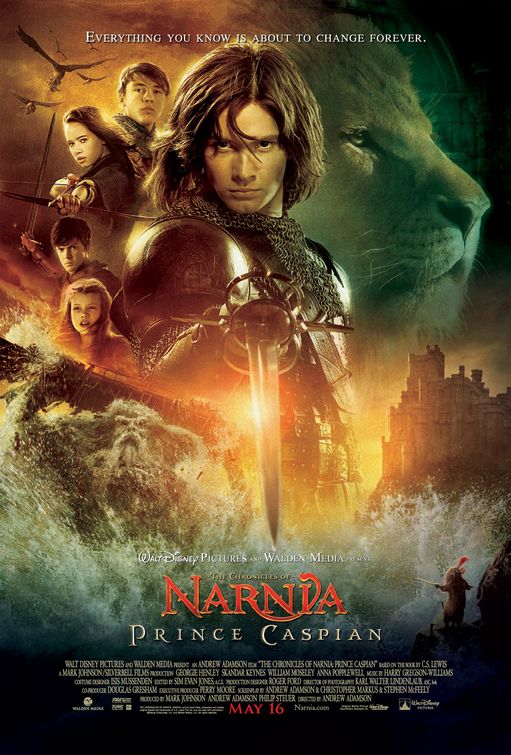 La magia de las crónicas de Narnia esta de vuelta (bueno estaba meses atrás) y estas vez un poco mas oscura que la primera.
Nuestros amigos Lucy Pevensie (Georgie Henley), Edmund Pevensie (Skandar Keynes), Peter Pevensie (William Moseley) y Susan Pevensie (Anna Popplewell) esta en Londres haciendo su vida de lo mas normal, aunque a veces extrañan a Narnia se están adaptando a su vida normal en el mundo real.
Pero cuando menos se lo esperaban son invocados por un cuerno mágico al mundo de sus añoranzas, lo que en principio les llena de mucha satisfacción, mas sin embargo luego se darán cuenta de que en Narnia han pasado cientos de años desde que ellos estuvieron ahí y para colmo de males nada parece ser lo mismo.
En esta nueva aventura conocerán al Príncipe Caspian (Ben Barnes), quien es un joven humano que como todo los de su raza viven de espalda a los Narnianos, negando su existencia. Y su destino sera gobernar en el nuevo reino de Narnia pero para eso necesitara la ayuda de los famosos reyes.
Sin dudas la pequeña Lucy vuelve a robarse el show en esta segunda parte y también tendrá otro aliado como en la primera, Trumpkin (Peter Dinklage). El Final anuncia cambios que veremos en la tercera parte.
En particular a mi me gusta mucho la serie de las Crónicas de Narnia, si se que esta enfocada para niños pero no deja de ser una historia asombrosa. De esta parte en particular me gustaron algunas cosas que son comunes con la Saga del Señor de los Anillos, no he leído los libros de C.S. Lewis pero he leído la de Tolkien y se que estos eran muy buenos amigos y que sus historias son contemporáneas, por lo cual entiendo perfectamente estas similitudes.
Si te gusta hacer volar la imaginación no dejes de ver esta movie.
Por cierto hay que seguir la carrera de Georgie Henley porque sin dudas apunta a convertirse en una gran actriz y de paso la de Anna Popplewell porque esta de buena la Niña.
1 Premio ganado y 2 Nominaciones.
Le doy un Rating:
En IMDB le dan un Rating:
Haz Click aqui para enviar a un amigo