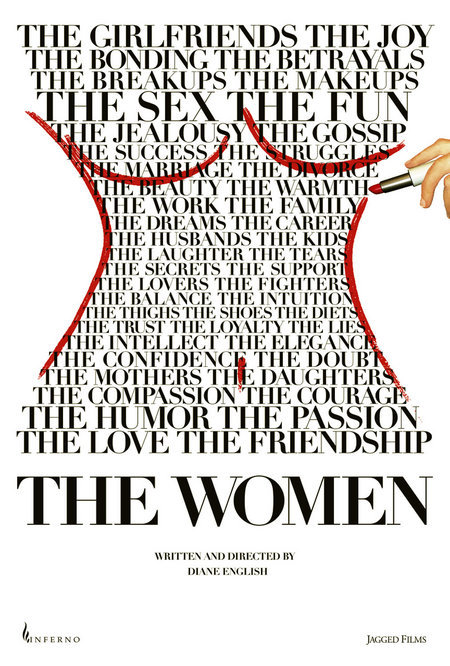 Remake de una historia del mismo nombre del 1939.
Cuenta la historia de 4 mujeres mas la amante del esposo de una de estas.
Son mujeres de la alta sociedad que se pasan su día entre sus grandes trabajos, los eventos de sociedad y sus rituales de belleza.
Sylvia Fowler (Annette Bening), es la editora de una revista de moda y la mejor amiga de Mary Haines (Meg Ryan); un día mientras esta en una lujosa tienda (Saks) haciendo el manicura se entera de que el esposo de su mejor amiga le esta engañando con Crystal Allen (Eva Mendes), la mujer que vende perfumes en dicha tienda.
Al enterarse Sylvia no tendrá los deseos de contarle a su mejor amiga y ser quien le rompa el corazón, pero cuando se junta con las otras 2 amigas las cosas cambiaran. Edie Cohen (Debra Messing) es la super madre, tiene 6 hijas y esperando otro mas, en cambio Alex Fisher (Jada Pinkett Smith) es la mujer de mundo de las 4 y es lesbiana.
Juntas trataran de solucionar el inconveniente y de informarle de la terrible verdad, pero antes de que esto suceda por coincidencia Mary va a la tienda y se encuentra con la misma manicurista quien le hace la misma historia sobre su marido.
De aqui en adelante Mary tratara de seguir adelante y de recuperarse así misma y con esto recuperar a su esposo.
Obviamente las relaciones entre ella y su mejor amiga cambiara y al final se reencontraran.
Pero a la película le falto mucho, mas o menos la idea de Sex and The City y no bien llevada. De hecho yo solo la vi por Jada.
No la recomiendo pues ni siquiera me hizo reír y aunque siempre es agradable ver a Jada, haciendo nada en la pantalla no ayuda mucho.
Le doy un Rating:
En IMDB le dan un Rating:
Haz Click aqui para enviar a un amigo