The Secret Life of Bees (2008)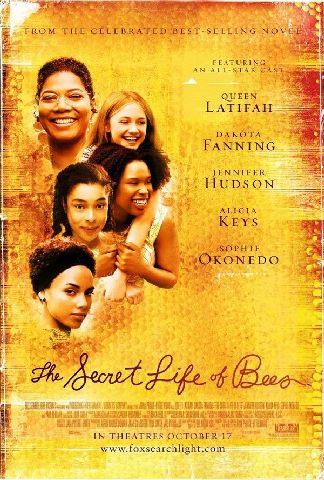 1964, Carolina Del Sur. Lo único que Lilly Owens (Dakota Fanning) recuerda de su madre fue el momento cuando siendo una niña tomo un arma de fuego para devolvérsela y termino matándola. Ahora con 14 años y viviendo bajo el yugo de un padre que no la trata ni remotamente bien, lo único que quiere es saber mas sobre su propia madre.
En los años donde la segregación racial era un problema mayor y se estaban dando los pasos definitivos para su erradicación huye de su casa, con su niñera y única amiga Rosaleen Daise (Jennifer Hudson), las cuales terminan en un pequeño pueblecito llamado Tiburón donde ella pretende encontrar información de su madre, y el cual guarda los secretos de su pasado.
Allí son acogidas por tres excéntricas hermanas apicultoras August Boatwright (Queen Latifah), May Boatwright (Sophie Okonedo) y June Boatwright (Alicia Keys), quienes le darán cobija, y con las cuales aprenderán mucho sobre la solidaridad, el amor y la amistad.
Demas esta decir que con solo el hecho de que Dakotta se encuentre aquí basta y sobre para disfrutar de esta producción, las demás con su actuación y la trama complementan la maravillosa historia.
Disfrútenla!
Torrent Link
The Secret Life of Bees (2008) DVD Rip
8 Premios ganados y 16 Nominaciones.
Le doy un [rating:7/10]
En IMDB le dan un [rating:6.9/10]
[email_link]