Watchmen x2 UTH/TOTBF (2009)
Mientras llega la película Watchmen me encontré con estos dos historias paralelas a la novela gráfica, las cuales no fueron incluidas en la produccion de Zack Snyder.
Under the Hood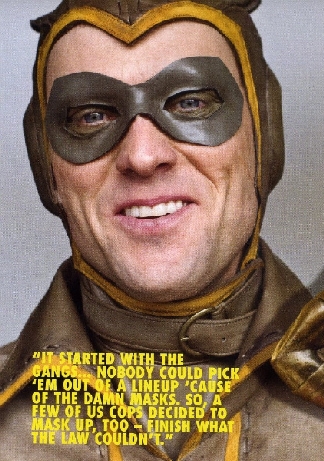 La primera es una especie de documental, en el cual se nos presenta un especial de TV de los años 70 que nos lleva a un viaje a conocer a los Minutes Man, un grupo de personas que tomaron la justicia en sus manos, con la particularidad de que se vestían muy estrafalariamente, con trajes de héroes y todo.
Contada por actores, que recrean a estos héroes cualquiera podría creer que se trata de un documental real y por ende una historia real. Apenas tocan la llegada del Dr. Manhattan y del nuevo grupo de Héroes llamado Watchmen pero da una retrospectiva muy interesante sobre los conflictos que ocasionan estos y en los que se ven envueltos por ser solo humanos.
De verdad que el foco en el contexto de lo humano, psicológico, de la vida de estas personas me encanto y comienzo a entender mejor la critica que ley en Cinema Blender y el de que se trata todo.
Torrent Link
WATCHMEN: Under the Hood (2009) DVDRiP
Le doy un Rating:
En IMDB le dan un Rating:
Tales Of The Black Freighter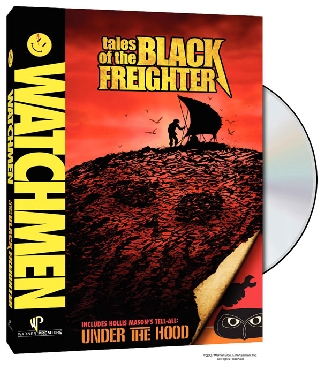 Con voz original de Gerard Butler nos relata la historia de una capitán de una barco que después de ser saqueado por otro barco lleno de fantasmas y demonios, llamado el navío negro, sobre vive en una pequeña isla lo suficiente para crear una balsa con los restos humanos y fétidos de sus compañeros.
Su intención es regresar lo mas pronto posible a su pueblo y salvar a su familia de las garras de estos monstruos, en el camino comienza a delirar por la falta de agua, el cansancio y todo lo demás. Cuando logra regresar cree que ha logrado llegar a tiempo, pero ya esta demasiado desquiciado para entonces y comete varios crímenes de lesa humanidad.
Un poco predecible, pero no por eso deja ser bastante disfrutable.
Torrent Link
WATCHMEN: Tales of the Black Freighter (2009) DVDRiP
Le doy un Rating:
En IMDB le dan un Rating:
Haz Click aqui para enviar a un amigo