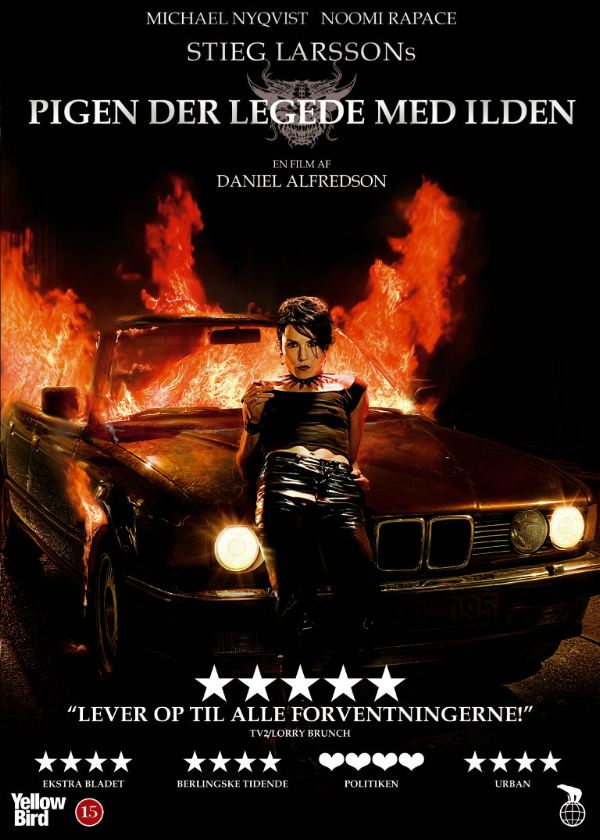 Titulo original Flickan som lekte med elden es la continuación de The Girl with the Dragon Tattoo (2009).
Lisbeth Salander (Noomi Rapace) se ha convertido en la mujer mas buscada de Suecia, aunque después de recolectar el dinero en la primera parte se ha ido a vivir por el mundo hasta su regreso. Mientras tanto en la revista Millennium, contratan un nuevo empleado y se preparan para sacar a la luz un escándalo sobre el comercio sexual en el país.
Las cosas se pondrán color de hormiga cuando Mikael Blomkvist (Michael Nyqvist) descubra que su nuevo empleado (quien conducía la investigación) y su novia (quien aportaba muchos datos) habían sido brutalmente asesinados, las huellas de Lisbeth aparecen en el arma homicida, prontamente también es encontrado asesinado su ex-abogado y aunado a su violento pasado todo indica que ella es la culpable.
Mientras tanto Lisbeth no se da por enterada de lo que esta pasando hasta que choca con la información, aunque nadie sabe de su paradero, Mikael Blomkvist obviamente no cree en lo que aparece en las noticias y busca la manera de contactarla para que juntos solucionen el problema, pero ella no es así y ante la amenaza actuara.
A medida que la trama se profundiza datos sobre el pasado de Lisbeth van apareciendo, su pasado en clínicas, del porque cayo allí, lo que sufrió en aquel lugar y el hecho de que no sea mas que un producto del mismo sistema. Tendrán que enfrentarse a enemigos tan feroces como un gigante rubio incapaz de sentir dolor, así como al pasado mas oscuro de ella. Lamentablemente para sus enemigos Lisbeth dista mucho de ser una victima indefensa.
Como ya dije esta es la segunda parte de la Trilogía Millennium, adaptaciones de las exitosas novelas de Stieg Larsson.
Es un Thriller simplemente excelente, tan bueno como la primera parte. Una excelente sorpresa nueva vez.
Disfrútenla!
Torrent Link
The Girl Who Played with Fire (2009) DVD-Rip
The Girl Who Played with Fire (2009) HD
Trailer Oficial

Le doy un Rating:
En IMDB le dan un Rating:
Haz Click aqui para enviar a un amigo