The most dangerous killers on the planet… but this is not our planet.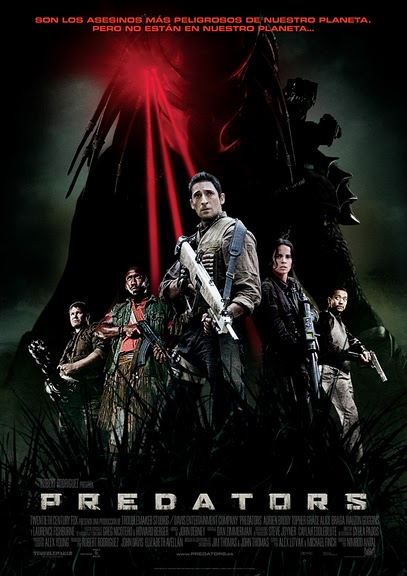 Royce (Adrien Brody) despierta en caída libre con la certeza de una muerte pronta pues su paracaídas no quiere abrir, sin embargo se salva. Rápidamente se da cuenta que esta en una selva nada familiar, a su lado comienzan a caer otros individuos con algo en común. Al sacar cuentas entienden que todos (menos 1) tienen experiencia militar de algún tipo, son asesinos.
Poco a poco irán descubriendo la realidad de su estadía en aquel lugar, aun peor es la revelación que están lejos de casa en lo que parece ser un mundo distante. La cacería comenzara sin siquiera estar al tanto que están siendo cazados, juntos tendrán que buscar la manera de sobrevivir y sobre todo enfrentar el enemigo o ser asesinados cuando escapan.
Mientras tanto todo su conocimiento como depredadores de su mundo sera puesto a prueba.
Lo primero que hay que decir de esta producción es que por fin se ha realizado una excelente secuela a nuestra amada película de los años 80. Nimród Antal (Con la ayuda de Robert Rodriguez) ha conseguido mantener todos los elementos de la original, llevarla a otro plano e infundir terror con las criaturas (que de paso ya hasta cariño le tenemos).
La introducción de nuevos elementos, pero que caen perfectamente dentro de la trama, como los varios tipos de Depredadores; ha sido de las pequeñas pero importantes cosas introducidas.
Cabe destacar que las actuaciones son muy convincentes, nada desproporcionadas por suerte, dentro del contesto de una película de acción. Hay cosas un poco flojas como una situación al final pero que por suerte no desvirtúan el trabajo.
Espero que no hagan una nueva pronto, pues aunque todos los elementos están ahí para continuar la saga, entiendo que no es lo mas recomendable hacerla en el mismo tono de esta parte, prefiero que pasen algunos años, que a alguien le surja una idea original nueva vez y que sea otra parte memorable.
Para los amantes de la serie, no pueden perdérsela.
Descargar Gratis vía Torrent Link
Predators (2010) DVD-Rip
Predators (2010) HD
Trailer Oficial

Le doy un Rating:
En IMDB le dan un Rating:
Haz Click aqui para enviar a un amigo