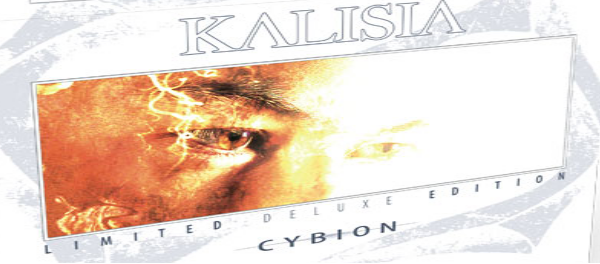 No todos los días tiene uno la oportunidad de encontrar un álbum que te vuele la cabeza pero cuando sucede es algo que se disfruta hasta mas no poder.
Kalisia es una banda francesa la cual años atrás tiraron un EP llamado Skies y que los hizo ser conocido en el ambiente underground, eso fue en los 90, años han pasado desde aquel cd, este año logran grabar un álbum conceptual el cual simplemente rompe los paradigmas establecidos.
Para tener una idea miren esta parte de un review, encontrada en Spunik Music
The music itself can range from melodic death metal to symphonic progressive metal to electronic to jazz to Arabian and so on, but the way the piece develops is seemingly influenced by movie soundtracks and modern classical composition. It begins with what could be called an overture with many orchestral elements slowly unfolding to a main theme performed by synth leads, fast-paced guitar, and intricate drumming. The harsh vocals are pretty typical, sounding exactly like the guy from Mors Principium Est, but his cleans meld sublime with the choir and female vocalist. The expansion of themes from this point on bond the multiple emotional attributes lyrically, vocally, and musically, for example using the old film noir saxophone mood to great effect, or the sound effects of computerized voices to drive the story into new dimensions…followed by a strange organ driven progressive jam.
Hay mas reviews que pueden leer pero nada como disfrutar de la rareza de este álbum.
El álbum actualmente se vende en Digipack y doble CD, que incluye el primer EP Skies remasterizado y también unos cuantos covers que incluyen How Could I de Cynic.
Entre los Guest que aparecen en esta obra están, Angela Gossow de Arch Enemy, Arjen Lucassen de Ayreon, Paul Masvidal de Cynic y otros mas.
Para tener una idea de lo grandiosa de esta banda escuchen la siguiente canción
kalisia-Beyond_Betrayal
Vale la pena comprar este álbum para esto lo pueden hacer en este link
Cybion es un album conceptual, el siguiente es el tracklist que como pueden ver se divide en 4 partes.
Tracklist :
CD 1
Part I : REVELATION [14:57]
1. Introduction / Domination [3:00]
2. Reception / Translation [2:00]
3. Union / Construction [3:24]
4. Declaration / Revolution [2:41]
5. Division / Integration [3:52]
Part II : ELEVATION [21:08]
6. Fusion / Rebellion [5:45]
7. Violation / Condemnation [3:34]
8. Education / Deification [5:04]
9. Isolation / Liberation [3:39]
10. Destination / Alteration [3:06]
Part III : REGRESSION [16:49]
11. Damnation / Seclusion [5:09]
12. Illusion / Desperation [2:06]
13. Resolution / Protection [4:08]
14. Reconstruction / Intrusion [2:03]
15. Confrontation / Communication [3:23]
Part IV : EXTINCTION [18:26]
16. Activation / Production [2:54]
17. Confusion / Resurrection [3:09]
18. Realisation / Penetration [3:52]
19. Disconnection / Comprehension [5:29]
20. Salvation / Connection [3:02]
CD 2
DISC 2
"Origins ("Skies" & Covers)"
1. Tower of Vanities
2. Chimera
3. Lost Soul
4. The Mental Frames pt. I (Instrumental)
5. How Could I (Cynic Cover)
6. A Fortune in Lies (Dream Theater Cover)
7. I Am the Black Wizzards (Emperor Cover)
8. This Dazzing Abyss (Loudblast Cover)
Pagina Oficial
http://www.kalisia.com
Mas información de Cybion
Bajen el álbum de aquí
Kalisia Cybion Limited Edition 2CD
Nota : Puede ser que los títulos no correspondan, en tal caso arreglenlo hasta que yo lo haga.
Ediciones Anteriores
Mar De Robles-Metal Jewels Vol. IX
Coprofago-Metal Jewels Vol. VIII
Cortlandt-Metal Jewels Vol. VII
Dark Hall-Metal Jewels Vol. VI
Anomaly (Hol)-Metal Jewels Vol. V
Anomaly-Metal Jewels Vol. IV
Lethargy-Metal Jewels Vol. III
Exivious-Metal Jewels Vol. II
Odyssey-Metal Jewels Vol. I
[email_link]