Batman : The Gotham Knight (2008)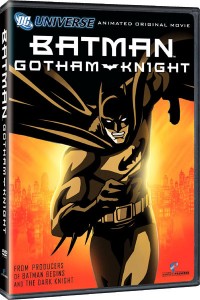 Desde hace unos años las grandes producciones cinematográficas están creando historias en forma de Animes que se sitúan entre una parte y otra de las producciones;ya fue el caso en su momento de Matrix y los Animatrix, asi como también de Stars Wars y seguro otras que no me llegan.
Ahora es el momento de Batman que nos trae Seis historias, seis cortos, cada uno mas largo que el otro y cada uno con una calidad visual exquisita.
Las historias nos presentan a un Batman en diferentes etapas, se supone que la mayoría corren entre Batman Begins y The Dark Knight pero al mismo tiempo nos brindan una retrospectiva del pasado doloroso de Bruce Wayne.
Sin dudas la cercanía al dolor y al sufrimiento comenzando con la muerte de sus padres es algo que convierte a Batman en el ser amargo que es.
Las seis historias se suscitan desde niños inventando historias de Batman hasta su asociación con la justicia, pasando por parte de su psico entrenamiento hasta el vencimiento de algunos de sus principales enemigos y porque no sus temores.
Cabe destacar la música, que aunque no sobresale da un aire de entretenimiento sin querer ser pretenciosos, llega la misma haciendo que se sienta la atmósfera del momento, sin dudas un punto a favor de esta saga.
A través de las historias veremos un Batman mas vulnerable y humano como también nos mostraran porque en The Dark Knight Batman parece estar tan "oscuro".
Este es sin dudas un A MUST SEE para todos los fans de Batman y para todos los que queremos estar ready para el estreno de The Dark Knight.
Le doy un Rating:
Haz Click aqui para enviar a un amigo