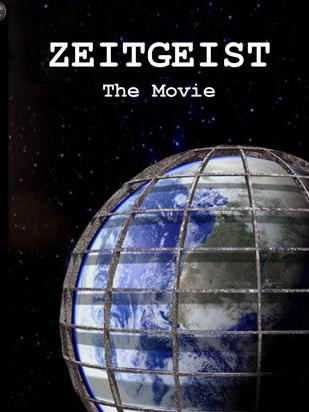 Zeitgeist es una expresión alemana que significa el "espíritu de una era" según dice Wikipedia. Y no se si es coincidencia o no pero de una era es que el documental comienza hablando. En sus inicios nos muestra una serie de imágenes (música de fondo) las cuales tratan de evocar desde espiritualidad y pasando por imágenes de guerras, culminando con las aplastantes imágenes de la caída de las torres gemelas. Luego de esta semi-presentacion empieza realmente.
Se divide en 3 partes, la primera se llama The Greatest Story Ever Told y si usted cree que el código da Vinci decía mucho del catolicismo y la iglesia, este va mas allá, mucho mas allá y nos muestra de donde vino el "mito" de Jesucristo haciendo una comparación con otras religiones. La verdad es que las teorías son extraordinarias.
La segunda parte nos transporta a las teorías conspiratorias detrás del 9/11 y se llama Part II: All the World's a Stage, aquí de verdad que hay teorías con las cuales me identifico inmediatamente, por ejemplo el avión que cayo en el pentágono el cual se "pulverizo" y otras tantas cosas que "sucedieron" en aquellos días. Teorías conspiratorias tenemos por miles pero yo realmente creo que una teoría conspiratoria que incluye la manipulación de los medios de comunicación, aun así difícil sera para cualquiera que lo intente probarlo.
La tercera parte se llama Part III: Don't Mind the Men Behind the Curtain y nos cuenta la historia del sistema federal de la reserva de E.E.U.U. y muchas cosas que sucedieron para que el capitalismo sea yo que hoy es. Incluso va mas lejos y hablan de un plan mundial para controlar el mundo.
De verdad que hay mucha información cruda en esta produccion y es fácil dejarse llevar por las teorías conspiratorias que aquí se mencionan una tras otras. Mas sin embargo hay que tener en cuenta que el documental presenta pocas pruebas y menos fuentes de donde proviene toda esta información.
Eso si, esto para nada le quita valor al documentar porque de verdad que te quedas anonadado con tanta información de tan relevantes acontecimientos.
Nota: el documental fue lanzado en el 2007 y luego vino una versión remastered, la cual ha ganado varios premios y salio directamente en Google video.
Aquí les dejo el link para verla online e un link a wikipedia.
ZEITGEIST Subtitulada en Español
Le doy un Rating:
Haz Click aqui para enviar a un amigo