The Forbidden Kingdom (2008)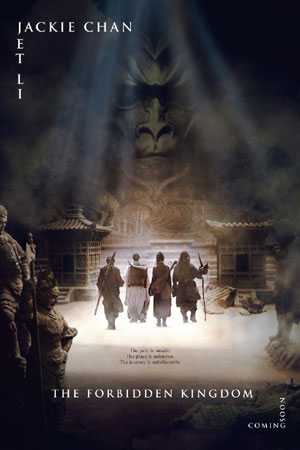 El descubrimiento de una lanza especial por un Joven americano obsesionado con el Kung Fu hará que este llegue a china a través de un portal.
Jason Tripitikas (Michael Angarano) es un joven que tiene una marcada obsesión por las películas de Kung Fu y siempre va al barrio chino en busca de estas, en uno de estos viaje Jason lograra ver una llamativa lanza y que según le cuenta el viejo Hop (Jackie Chan) esta ahí desde su abuelo y un buscador vendrá a buscarla para entregarla a su dueño.
Jason es acosado por unos "Punks" estos hieren a Hop y tratan de darle una golpiza a Jason para que no hable, pero mientras le persiguen Jason atraviesa un portal que lo lleva a China Medieval (sort of).
Con la lanza aparece en el medio de una china que esta reinada con un emperador con poderes místicos, había obtenido todo su poder cuando engaño a un sabio años atrás peleando y lo solidifico.
Jason contara con la ayuda de Lu Yan (Jackie Chan), del Silent Monk (Jet Li) y de Golden Sparrow (Yifei Liu) para entregar la lanza y poder despertar a The Monkey King (Jet Li) y acabar con el dominio de Jade Warlord (Collin Chou) quien contara con la ayuda de Ni Chang (Bingbing Li) y un ejercito que tratara de destruir la lanza.
Obviamente siendo una película en china los colores brillan y las peleas por los aires son geniales, muchas patadas, movimientos y hermosa música son los que componen esta producción.
Sobre todo la segunda mitad de la película es que se pone super interesante.
Le doy un Rating:
IMDB le da un Rating:
Haz Click aqui para enviar a un amigo