Update : El album ha encontrado su camino en la web y déjenme decirles que esta extraordinario, la octava maravilla del metal y el tiempo de duración del mismo solo incrementa los deseos de que fuera un poco mas extenso.
Links
Traced In Air Japanese Edition
Traced In Air
Bájelo, escúchelo, escriba reviews en cualquier parte de la web (solo si te gusto, así generaras posible consumo) y luego cuando este disponible comprelo y así tendremos DVD también.
De verdad que estoy esperando el 27 de octubre para comprarme este CD, les recomiendo que lo hagan también para tener Cynic por buen rato y para que graben el DVD.
Weeeespa compadre, ahora si que estamos hablando. Los niños buenos del Death Metal Técnico/ Progresivo han presentado el Track Listing y el Album Artwork de su nueva producción Traced In Air.
Las expectativas siguen bastante altas. Yo estaba esperando que usaran la anterior solo que con un color diferente, como esta en su site de myspace, pero me sorprendieron con una mejor portada.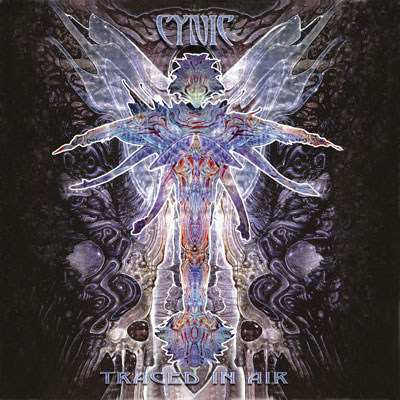 El disco tendrá una duración de 35 minutos, uno menos que el Focus. Para los que piensen que esto es poco tiempo recuerden que es mejor poco y quedarse queriendo mas.
El tracklist es el siguiente :
01. Nunc Fluens
02. The Space For This
03. Evolutionary Sleeper
04. Integral Birth
05. The Unknown Guest
06. Adam's Murmur
07. King of those Who Know
08. Nunc Stans
El álbum estará disponible el próximo 28 de octubre a través de Season of Mist Records.
Fuente :
Blabbermouth
Gracias Legolas.
Haz Click aqui para enviar a un amigo