Journey to the Center of the Earth (2008)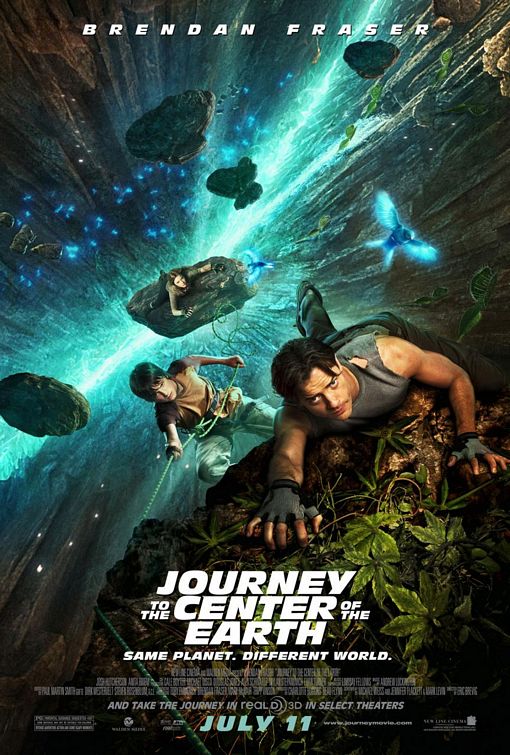 Demonios que producción, que película, a decir la verdad tenia unos meses que no veía una como esta.
Lastima que la sorpresa no haya sido tan agradable, jodió clavo de la porra.
Veamos.
El joven Prof. Trevor Anderson (Brendan Fraser) tiene una vida bastante aburrida, se dedica a dar una clase la cual no logra interesar a nadie, para colmo el laboratorio que tiene asignado y creado a nombre de su hermano sera cerrado en los próximos días.
El hijo de Max, Sean Anderson (Josh Hutcherson) ira a pasarse 10 días con tu su tío Trevor y junto con Sean su madre lleva una caja con cosas pertenecientes a Max. Entre las cosas hay una edición de Viaje al centro de la tierra de Julio Verne, pero el cual tiene unas cuantas anotaciones.
Trevor y Sean se embarcaran en la búsqueda de respuestas sobre la desaparición de su hermano, así es como llegan a África, buscan una guía y van al lugar donde Max tenia unos sensores. Inmediatamente comienza la aventura.
Ya ustedes saben lo que sigue, caen por un precipicio, caen vivos y entran a un mundo perdido dentro de nuestro mundo.
Malas actuaciones, pésima acción, muy rápidas secuencias y cosas insensatas son las características de esta muy mala adaptación de la homónima novela.
Le doy un Rating:
En IMDB le dan un Rating:
Haz Click aqui para enviar a un amigo