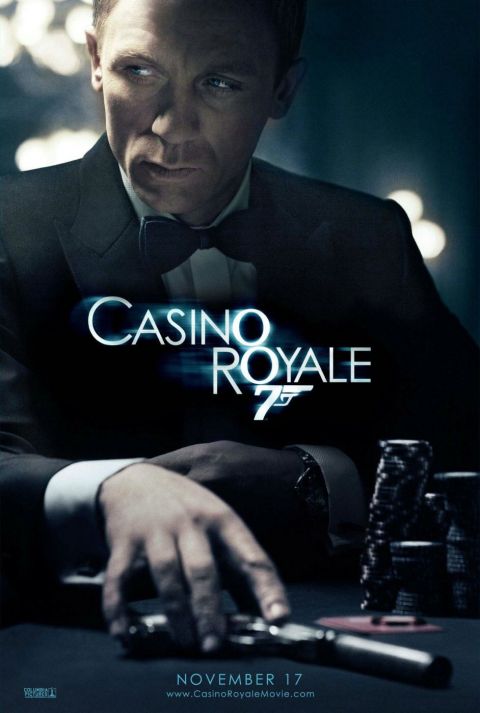 #1 me encanta la serie de James Bond, #2 ya que por ahí viene Quantum of Solace quería aprovechar y entenderla mejor para así disfrutar a QOS ya que continua donde esta se queda, y #3 High Definition Babe.
En esta nueva edición nuestro super espía favorito James Bond (Daniel Craig), tendrá como misión la de detener a un peligroso criminal llamado Le Chiffre (Mads Mikkelsen), quien funge como banquero de las organizaciones terroristas en todo el mundo.
Diferente esta vez, es que Bond apenas se convertirá en un agente 00, así que esto seria como una recuela y a la vez es un remake de otras tantas versiones que se han hecho de Casino Royale.
La acción en esta película comienza desde el primer instante, en una persecución de película (no pun intented) y extraordinariamente bien lograda.
La lucha que ponen a coger a Bond en esta parte es para no perdérsela, sobre todo la tortura casi al finalizar la producción.
La chica Bond sera Vesper Lynd (Eva Green), quien es la encargada de darle o no el dinero necesario para una partida de pocker en el denominado Casino Royale.
La trama es la siguiente, Le Chiffre no es que tiene mucho dinero, así que con el dinero de los terroristas crea un plan, explotar el prototipo de avión de una nueva aerolínea que entrara al mercado, apostando en contra de las acciones de esta compañía, tiene como plan atentar contra este avión y de esta manera hacer que las acciones caigan y ganar un dineral, el problema es que Bond le daña to.
Así que Le Chiffre decide patrocinar un juego de pocker y como es muy bueno, ganarse los millones que perdió de los terroristas, que sino se lo van a lamber a el, pero en esta también se mete Bond y la CIA.
Cuando Le Chiffre ve todo perdido no le queda otra que ir al encuentro de Bond y darle una salsa. Al final Bond que ya estaba enamorado y decidido a dejar todo encontrara razones de mas para ser un agente 00.
Una de las mejores películas de James Bond, sino la mejor, que he visto. Aquí todo es excelente.
Procuren verla en estos días cosa que entiendan perfectamente a Quantum of Solace.
15 Premios Ganados y otras 25 nominaciónes.
Le doy un Rating:
En IMDB le dan un Rating:
Haz Click aqui para enviar a un amigo