Le Voyage du ballon rouge (Flight of the Red Balloon) (2007)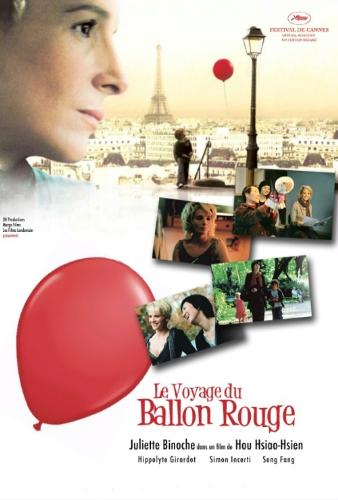 Suzanne (Juliette Binoche), es una madre cariñosa, siente un gran amor por su hijo pero siempre esta arropada por sus obligaciones. Entre ellas esta un espectáculo de marionetas, doblaje de voces, y la crianza de sus 2 hijos Simón (Simón Iteanu) y su hija Louise (Louise Margolin), los cuales ha estado criando sola desde que el padre las abandono.
Sin tener ningún tiempo para ella, busca la ayuda de una niñera que cuide a Simón, y esta ayuda la encuentra en una mujer joven China llamada Song Fang (Fang Song).
Simón y Song comparten un mundo imaginario, un mundo donde son seguidos por un balón rojo. En el caso de Song a ella le encanta una película del mismo nombre que esta (y que de verdad existe y esta producción es un homenaje a la misma), pero en el caso de Simón parece ser una analogía con un mundo irreal y donde el tiene el control.
A medida que pasan los días Song se vuelve mas importante en la vida de Suzanne y de Simón, sobre todo de Suzanne que esta lidiando con sacar a su vecino Marc (Hippolyte Girardot), de la casa de abajo, amigo de su esposo y que tiene mas de un año que no paga renta y para colmo abusa de la hospitalidad de la parte superior de la casa.
Al final la forma de ser de Song ayudara a esta a superar sus problemas.
En lo personal no es que no me gusto, pero no fue lo que yo esperaba, es muy sub-realista en algunos sentidos y aunque es una película de esas que se disfrutan suavemente no me lleno del todo.
Como curiosidad fíjense en los nombres de los actores y en los nombres de los personajes.
Y si, la mayor parte de este review la saque de IMDB Jason Grimshaw.
Le doy un Rating:
En IMDB le dan un Rating:
Haz Click aqui para enviar a un amigo