The Boy in the Striped Pyjamas (2008)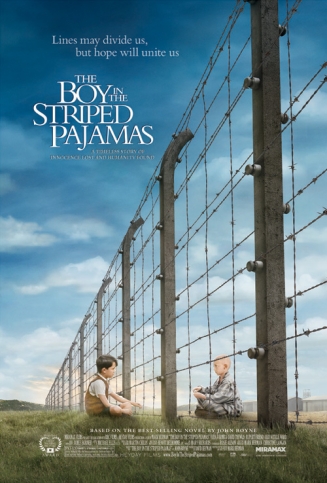 La historia se desarrolla durante la segunda guerra mundial y en el mismo epicentro del Holocausto Nazi.
Bruno (Asa Butterfield) es un niño de tan solo 8 años, hijo de un oficial nazi el cual termina de ser ascendido. Luego de este ascenso la familia se ve obligada a abandonar su confortable casa en Berlin y trasladarse a las afueras de Alemania. En aquel lugar Bruno no tiene nada que hacer, ni con que jugar, el aburrimiento es parte de su rutina.
Atraído por la curiosidad de un niño como el que quiere ser explorador, se olvida de las advertencias de su madre y sale fuera del Jardín, prohibido para el. Allí se dirige a lo que en sus ojos no es mas que una granja sin darse cuenta que es un campo de concentración judía.
En aquel lugar conocerá a Shmuel (Jack Scanlon), un niño de su misma edad y prisionero. Bruno no entiende la realidad que le rodea e inclusive cree que todo se trata de un juego, y se pregunta que porque aquellas personas usan piyamas sin darse cuenta que es el uniforme de los prisioneros.
De aquí en adelante tendrá una relación secreta con su amigo.
La madre de Bruno se dará cuenta de las atrocidades que se están cometiendo en aquel lugar y antes de quedar "local, decide marcharse, sin embargo el día en que se van Bruno va a visitar a su amigo por ultima vez y ayudarle a buscar a su padre que se ha perdido en el "campo de recreación".
El final no puede ser mas trágico y capaz de abril los ojos ante la terrible naturaleza humana.
Una extraordinaria producción que hay que ver señores, hermosa película, la inocencia es algo increíble.
Torrent Link
The Boy in the Striped Pyjamas DVD Rip
2 Premios Ganados y 2 Nominaciones.
Le doy un Rating:
En IMDB le dan un Rating:
Haz Click aqui para enviar a un amigo