Hell Ride (2008)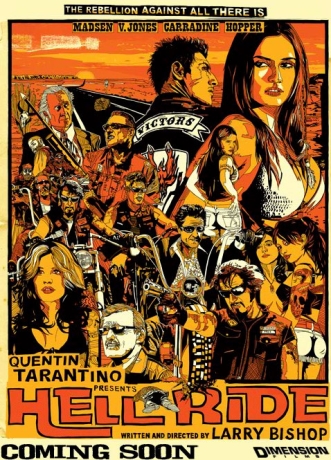 Un grupo de motoristas llamado The Victors, su líder llamado Pistolero (Larry Bishop), su mejor amigo The Gent (Michael Madsen) y el nuevo integrante de la banda, Comanche (Eric Balfour), se unen para acabar con una antigua venganza.
Pistolero tendrá que vérselas con sus antiguos rivales, los lideres de otra banda motorizada, Billy Wings (Vinnie Jones) y The Deuce (David Carradine), quienes son los supuestos asesinos de la que fuera amante de los mismos muchos años atrás, Cherokee Kisum (Julia Jones).
Aparte de tener que enfrentar estos matones, pistolero tendrá que enfrentar una rebelión interna, lo que nadie sabe es que el lo tiene todo calculado.
El hijo de Cherokee Kisum estará mas cerca de lo que nadie ha pensado, sobre todo teniendo en cuenta que después de su muerte, nadie le había visto jamas, un secreto guardado por años le sera entregado.
La verdad es que la película quizo ser una Tarantinada o una RobertRodrigada pero no lo logro, de hecho el personaje de Pistolero se supone que seria como el hermano del Mariachi en Desperado, pero para nada lo lograron, la película es muy caída.
Le doy un [rating:4.5/10]
En IMDB le dan un [rating:5.3/10]
[email_link]