The Day the Earth Stood Still (2008)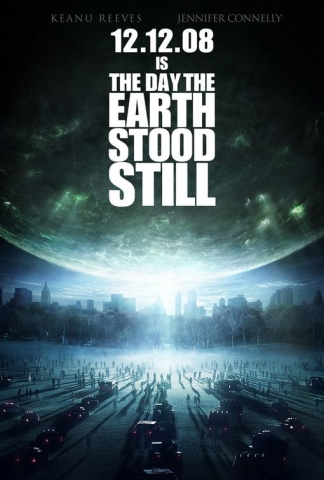 La película es un remake del clásico homónimo de 1951.
Klaatu (Keanu Reeves), un extraterrestre humanoide que llega a la Tierra con fines pacíficos para advertir a la población mundial de los peligros que enfrentan, gracias a las guerras, agotamiento de los recursos naturales y todo lo que la humanidad le esta haciendo a la tierra que a la larga destruirán la misma.
Sin embargo desde su llegada el miedo a lo desconocido descontrola a los humanos que inmediatamente atacan, niegan los derechos naturales que le corresponden a este ser y comienzan a acorralarle al punto que este tendrá que defenderse.
La Dra. Helen Benson (Jennifer Connelly), sera la contraparte, científica e humanitaria que lograra influir en el pensamiento y sentir de Klaatu, mientras que el pequeño Jacob Benson (Jaden Smith), el hijastro de 8 años de la científica sera el primero en entablar contacto con Klaatu.
Juntos trataran de detener la decisión que ha sido tomara para salvar la tierra, salvarla de la raza humana que tanto daño ha hecho a la misma.
Obviamente es una historia predecible, fácil de seguir pero no por eso es mal como muchos han dicho, la película esta bien y tiene algunos efectos especiales.
Torrent Link
The Day the Earth Stood Still (2008) DVD Rip
Pueden encontrar otro review en el Blog De Lyn@.
Le doy un Rating:
En IMDB le dan un Rating:
Haz Click aqui para enviar a un amigo