Roman Polanski: Wanted and Desired (2008)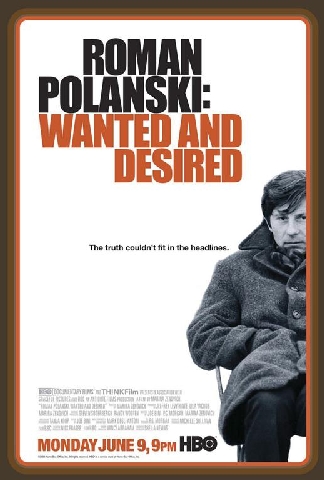 Tremendo documental que sigue la vida del Excéntrico director Roman Polanski. El escándalo que se formo cuando fue acusado de violar una niña de tan solo 13 años, el asesinato de su esposa por parte de Charles Manson.
Actualmente Roman no puede poner pie en suelo americano, no al menos sin enfrentar la continuación de un juicio que, aunque se suscito de una manera que no debía, no ha sido concluido.
Amigos de Roman, darán la cara por el, compañeros de trabajo, la entonces victima del supuesto estupro y hasta el mismo Polanski son los protagonistas de este episodio.
La verdad es que aparte de que se enfocaron mucho en el escándalo y dejaron muchas cosas interesantes que contar, no hay desperdicios en el mismo.
La calidez y la empata que trasmite Polanski cruza sin dudas las pantallas, y logra conectar con el publico.
Si quieren saber mas sobre la vida de este director, su obra y todo lo que aconteció con respeto a este juicio no deben dejar de ver este galardonado documental.
PD : El titulo se refiere a su condición ciudadana, requerido por las autoridades americanas (rechazado por los medios masivos de comunicación y amado por Francia (donde reside desde entonces).
Disfrútenl0!
Torrent Link
Roman Polanski: Wanted and Desired (2008) DVD Rip
1 Premio Ganado y otras 2 nominaciones.
Le doy un Rating:
En IMDB le dan un Rating:
Haz Click aqui para enviar a un amigo