Ice Age: Dawn of the Dinosaurs (2009)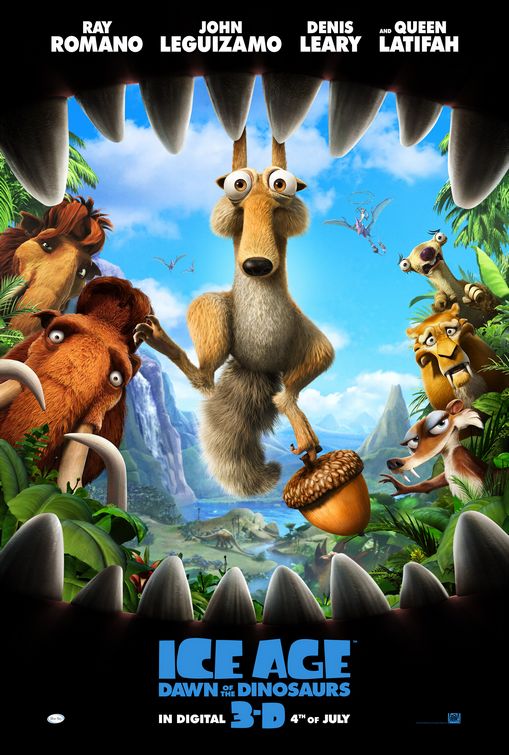 Si las segundas partes nunca son buenas que se puede esperar de una tercera?, Bueno por suerte toda regla tiene su excepción y si hablamos de Ice Age, sabemos que risas seguras tendremos.
La tercera parte nos muestra a los presuntos implicados de siempre. Luego de los eventos ocurridos en Ice Age: The Meltdown, la vida de Manny y los demás. Sobre todo el con Ellie quienes pronto tendrán una familia. Obviamente esto trae consigo cambios "en la manada", Manny busca la forma de que todo quede perfecto para cuando llegue su primogénito, Diego se siente muy acomodado para su gusto y siente la necesidad de salir en busca de nuevas aventuras, Sid quiere tener su propia familia por lo cual se queda con unos huevos que encuentra y clavo esta Scrat sigue en su perpetua búsqueda de su nuez, con la salvedad que encontrara el romance en su camino.
La aventura llegara a ellos cuando los huevos que había encontrado Sid nacen, dándose cuenta todos que son nada mas y nada menos que unos T-Rex, cuando la madre de los mismos aparece se llevara consigo a sus crías y con estos al propio Sid obligando a todos los demás ir en su rescate. De aquí en adelante comienza entonces la super risa, aparece un nuevo personaje que es lo máximo, saca las risas de donde no hay.
Hay que expresarlo y fuerte, la serie de Ice Age ha sido una de las mejores logradas, debe ser la única trilogía animada realizada al menos en estos últimos años. Lo mejor que tiene la serie es lo bien que sus personajes han calado en el gusto del publico, no hay formas en que no le tomes pena a Sid o a la "ardilla", que tantas penurias ha pasado en busca de su nuez.
Creo que tal vez deberían tomar de ejemplo esta serie y ver bien la combinación de elementos que han llevado a que esta serie sea tan rentable.
Aun esta en el cine, no dejen de verla.
Trailer Oficial

Disfrútenla!
Le doy un Rating:
En IMDB le dan un Rating:
Haz Click aqui para enviar a un amigo