The Time Travelers Wife (2009)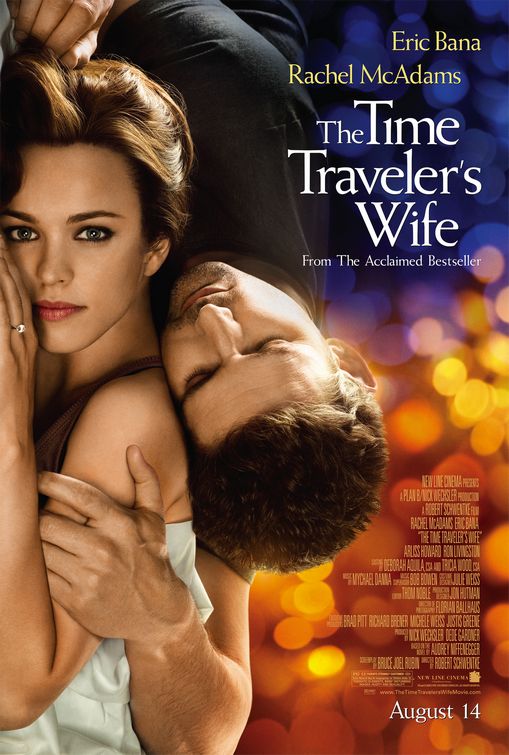 Siempre me han gustado estas propuestas de los últimos años donde elementos de historias que de cierta manera son conocidos y los cuales han sido explotados son vistos desde otra óptica, por ejemplo la familia en The Incredibles, La responsabilidad ciudadana en Handcock y en este caso la vida de la esposa de un Viajero en el Tiempo.
La historia narra la vida del Bibliotecario de Chicago, Henry DeTamble (Eric Bana), el cual tiene un desorden genético que le permite viajar en el tiempo. Lamentablemente este gran poder viene sin control, el no puede decidir hasta que lugar y/o momento transportarse y mucho menos cuando, así que su vida en este sentido es un desastre.
Aun así el buscara la manera de vivir lo mas normal posible bajo su condición, aprenderá a hacer cosas que le permitan protegerse y/o estar preparado, como dejar ropa (en el viaje solo es su cuerpo el que se mueve) en lugares estratégicos ya que suele viajar a los mismos lugares constantemente.
Cuando conoce a Clare Abshire (Rachel McAdams) su vida cambiara para siempre. Primero la conoce cuando es apenas una niña y desde que se cruzan sus caminos nunca mas volverán a separarse a excepción de los viajes esporádicos. Juntos pasaran por una y otra situación, algunas bastante difíciles como su embarazo.
Sin saber que les depara el futuro, y en el caso de el menos que le depara el pasado, tratando de cambiar cosas que ni siquiera entiende, y ahora con la posibilidad de que su hijo tenga el mismo problema mas las dificultades de una esposa la cual aunque quiere no necesariamente puede entender todo el contexto de las cosas que no pueden controlar.
En definitiva una historia que lleva las barreras del amor a una nueva dimensión. Una excelente y bella historia de amor vista desde un nuevo contexto.
Torrent Link
The Time Travelers Wife (2009) DVD-Rip
The Time Travelers Wife (2009) HD
Trailer Oficial

Le doy un Rating:
En IMDB le dan un Rating:
Haz Click aqui para enviar a un amigo