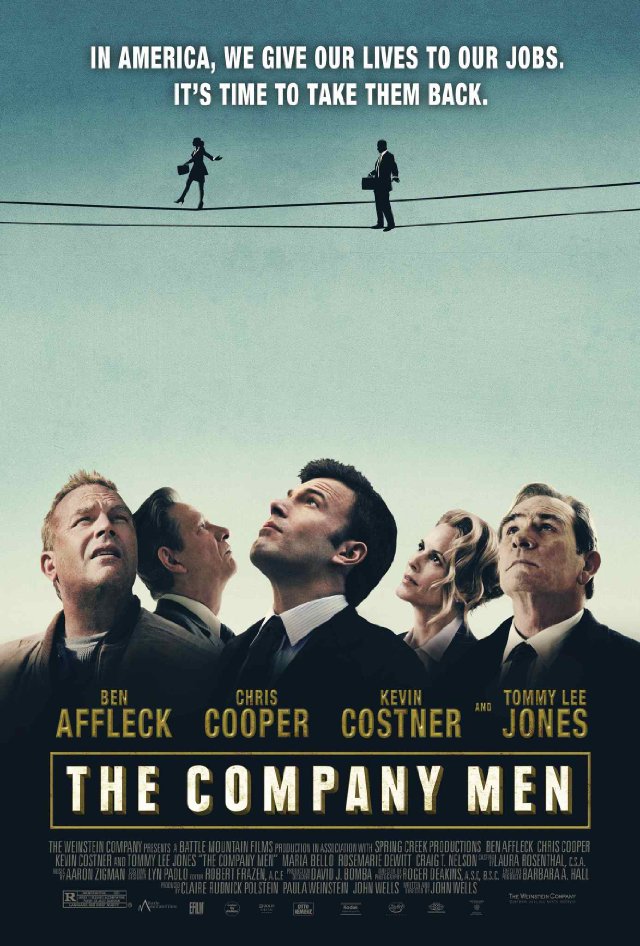 Una excelente producción que da un vistazo a varios situaciones ficticias pero muy reales que pudieron o no ocurrir en los últimos años en la crisis financiera que sufrió Estados Unidos.
La historia se centra en un grupo de altos ejecutivos dentro de la empresa GTX y la situación particular de cada uno de ellos en la crisis del 2010.
Bobby Walker (Ben Affleck) es el mas joven del grupo, es el mejor vendedor de GTX en la costa este, prácticamente vive el sueño Americano con su Porche, su casa en los suburbios y sus juegos de golf. Pero cuando se ve afectado por el despido simplemente no sabe como enfrentar la situación, aunque tiene el apoyo de una esposa comprensiva y un hijo a la altura de las circunstancias nunca se había visto en una postura similar; tendrá que adaptarse para poder sobrevivir. En el proceso sabrá verdaderamente que es lo importante de la vida.
Phil Woodward (Chris Cooper) es otro alto ejecutivo que ha sido despedido, esta a punto de cumplir 60 años y ha laborado prácticamente toda su vida para esta empresa, ahora tendrá que enfrentarse a individuos que no llegan ni siquiera a la mitad de su edad al mismo tiempo que debe lidiar con una familia que vive el sueño de la alta sociedad. Su vida nunca había sido tan cruda y nunca imaginaba enfrentarse a estos demonios.
Por ultimo esta Gene McClary (Tommy Lee Jones), el mas alto ejecutivo solo detrás del fundador/CEO de la empresa y su mejor amigo James Salinger (Craig T. Nelson). A diferencia de su amigo, Gene ve las cosas desde otra óptica, realmente le importa la compañía y se muestra contrario a la reducción masiva, al ver a sus compañeros despedidos se siente frustrado al no poder hacer nada hasta que se ve en la misma condición con la variable de que el no necesita el dinero por tener las suficientes acciones para vivir tranquilamente por el resto de su vida.
Nos encontramos ante una visión muy bien presentada de situaciones que de una forma u otra ocurrieron durante la crisis reciente. Vemos como el cambio en una empresa puede afectar tantas vidas y sobre todo podemos percibir el despilfarro que siguió ocurriendo en plena crisis por parte de los altos ejecutivos a expensas de sus empleados.
La producción cuenta con un reparto de primer orden y el cual permiten llevar una historia fresca, bien elaborada. Hay muy buenas actuaciones y dirección las cuales permiten realmente que la historia llegue.
Espero que la disfruten.
Descargar Gratis vía Torrent
The Company Men (2010) DVDRip
The Company Men (2010) HD 720p
Trailer Oficial

4 nominaciones.
Le doy un Rating:
En IMDB le dan un Rating:
Haz Click aqui para enviar a un amigo