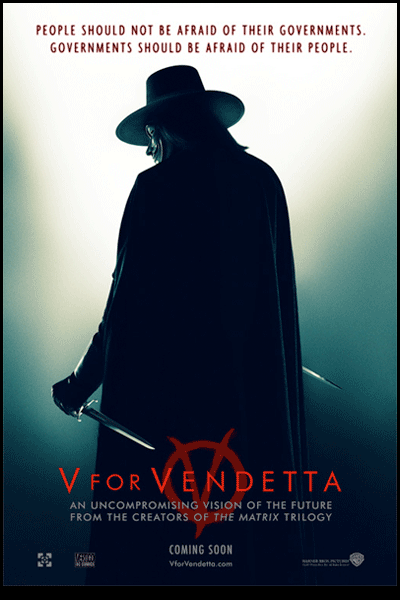 We are told to remember the idea, not the man, because a man can fail.
Adaptación de la novela gráfica homónima de David Lloyd, homónima de Alan Moore (Gracias Johan por la corrección).
Muy parecida a la historia de Adolf Hitler, el gobierno Británico cae ante las manos de un dictador que mantiene el control a través del miedo, la tortura y la destrucción de las minorías.
Sin embargo mas allá del caos, aparece un hombre conocido solo por el nombre de V (Hugo Weaving), el utiliza una mascara de Guy Fawkes, y es el único que le hará frente al gobierno de terror.
Un día este salva a una joven mujer llamada Evey Hammond (Natalie Portman), y de ahí en adelante un lazo los atara; ese mismo día V destruye un importante edificio, y luego ataca una planta de televisión donde anuncia que dentro de un año destruirá el edificio del parlamento, exactamente como años atrás Guy Fawkes quiso hacer.
En ese año antes de llegar al 5 de noviembre, muchas cosas cambiaran, V entenderá que no es su decisión, Evey vera mas allá de su dolor y sobre todas las cosas, las personas dejaran de temer.
Una excelente producción que por ningún motivo deben perderse. Una interesantisima historia que deben prestar atención para disfrutar.

"Remember, remember the 5th of November. The gunpowder, treason, and plot. I know of no reason why the gunpowder treason should ever be forgot".
3 Premios ganados y Nominada a otros 16 premios.
Le doy un Rating:
En IMDB le dan un Rating:
Haz Click aqui para enviar a un amigo