In Search Of A Midnight Kiss (2007)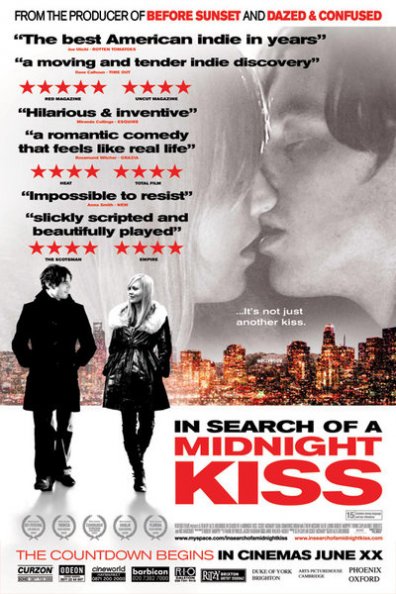 Excelente film para la época.
"In Search of a Midnight Kiss" es una especie de documental ficticio que cuenta la historia del famoso beso del 31 de Diciembre, el beso mayor y que muchas parejas se pasan un año entero en su búsqueda.
Así sucede con Wilson (Scoot McNairy) un joven que la vida no le ha jugado del todo bien, hace un tiempo se mudo de Texas donde dejo al amor de su vida, peor aun sus planes eran el de vender un guion y hacerse rico pero cuando llego a los Ángeles le robaron la laptop.
El esta viviendo con su mejor amigo, Jacob (Brian McGuire) el cual también le brinda apoyo moral y es quien le convence a no quedarse ahí sin hacer nada, que se mueva y que se deje de estar de guanajo (oiste Grimaldy). Como idea Jacob insiste en que publique algo en Craiglist buscando pareja, aunque en principio renuente a este tipo de búsqueda y escéptico ante los posibles resultados, acepta y aunque escribe un mensaje no tan halagüeño recibe una llamada de Vivían (Sara Simmonds), la cual desde el principio le pone las cartas en la mesa.
Se citan en un lugar a las 4 de la tarde, donde Vivían vera a 2 personas mas, pues no es verdad que ella se va a pasar el 31 con un loco dice ella.
Obviamente los demás pretendientes no le gustan para nada, así es que se van a caminar, comer, y entre palabras van palabras vienen llegan a un entendimiento.
La cinematografía es muy buena, la película (la versión que vi) es en blanco y negro y es fácil de seguirla, no es para nada aburrida y la historia logra llegar.
Vale la pena disfrutar de la misma, si tienen la oportunidad metan mano.
2 Premios Ganados y otra nominación.
Le doy un Rating:
En IMDB le dan un Rating:
Haz Click aqui para enviar a un amigo