The Curious Case Of Benjamin Button (2008)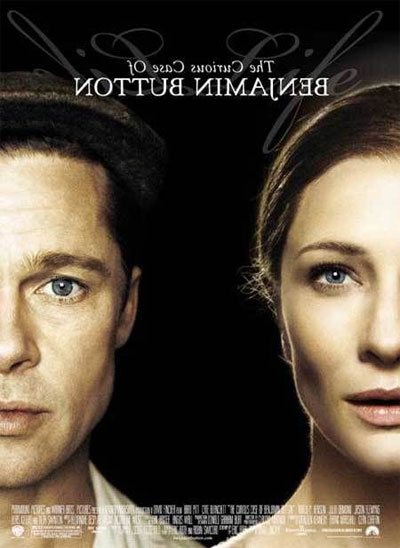 "Puedes estar furioso como un perro rabioso por como salieron las cosas. Puedes insultar, puedes maldecir al destino pero cuando se acerca el final debes superarlo".
Wau, Just wau, God Damn it, what a wonderful movie.
1918 transcurre la noche en que los Estados Unidos celebran el día final de la Gran Guerra (Primera Guerra Mundial), las calles de New Orleans están repletas de personas celebrando; militares, civiles, hombres, mujeres, borrachos, todos celebran, en una casa cercana nace un niño, su madre muere en el proceso y su padre al verlo enloquece y corre con el sin saber lo que hará. El niño nació con la piel muy arrugada, el padre suelta al niño en unas escaleras y se va.
El niño es encontrado por una mujer negra de nombre Queenie (Taraji P. Henson), aunque se da cuenta que algo raro pasa con el niño lo toma en sus brazos, Benjamin le nombra. El Dr. dice que tiene todas las enfermedades de una persona de 80 años y que vivirá poco tiempo, así que Queenie piensa quedarse con el y que viva feliz mientras dure. Sin embargo con el tiempo Benjamin crece y aunque parece una persona muy mayor la vida le sonríe.
A los 7 años de edad (aunque aparenta de 75 o mas) conoce a quien sera el amor de su vida, que en ese momento solo tiene 5 años, Daisy (Elle Fanning).
A medida que pasa el tiempo Benjamin ira aprendiendo como un niño, simplemente que aparenta ser una persona mayor. El vive con su madre quien cuida de personas vejecientes y quienes lo tratan como un igual, al mismo tiempo toda la sabiduría de estas personas ayudara a Benjamin a aprender cosas únicas, como tocar el piano, disfrutar de las cosas sencillas de la vida.
Sigue pasando el tiempo y Benjamin sigue juveneciendo, mientras esta por primera vez con una mujer, luego se ira a navegar por el mundo, conocerá lugares increíbles y tendrá aventuras únicas y esplendidas. Con el tiempo el reencuentro que nunca se había podido materializar con su amada Daisy sucederá y vivirán los años mas felices de sus vidas. Disfrutaran juntos de los cambios que esta sufriendo la humanidad y sobre todo disfrutaran uno del otro.
Todo esto hasta que llegue el momento en que Benjamin deba marchar porque se esta convirtiendo en un niño.
Ufff, Señores hasta ahora la mejor película que he visto de todo el año 2008, comparable en cierta manera con Forrest Gump, es una producción capaz de quitarte el aliento en cualquier momento. Una maquillaje extraordinario, una historia bellizima, tremendas actuaciones de Pitt, Blanchet y Henson.
La grandiosa música acompaña a tan tremenda producción en todo momento. Simplemente una obra maestra.
Junto con Gran Torino es mi favorita para ganar el Oscar a Mejor película del año.
Nominada a 5 Golden Globes. Otros 26 Premios ganados y 21 nominaciones.
Le doy un Rating:
En IMDB le dan un Rating:
Haz Click aqui para enviar a un amigo