Vals Im Bashir (Waltz With Bashir) (2008)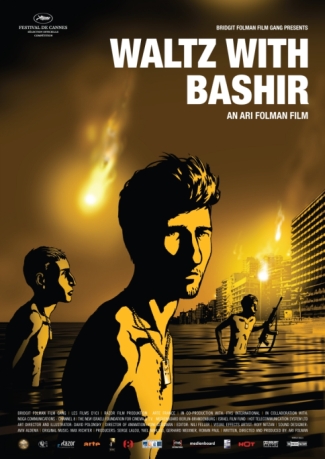 1982, Ari Folman era un soldado de 19 años pertenecientes a las fuerzas Israelitas. 24 años después, año 2006, se encuentra con un amigo de la armada en aquel entonces, que le cuenta de una pesadilla relacionado a sus experiencias de la guerra del Líbano.
Para su sorpresa no recuerda nada concerniente a aquel periodo. Esa misma noche tendrá una especie de visión/sueño donde se encuentra con unos amigos bañándose en un playa de noche cerca de Beirut y donde logran ver un grupo de luces de bengala descendiendo sobre la ciudad.
Entonces Folman se encuentra con otro amigo quien le recomienda que discuta con otras personas que estuvieron en Beirut en aquel entonces y así entender y recuperar su propia memoria.
El documental recoge las impresiones y conversación con amigos, un psicoanalista y el reportero Ron Ben-Yishai quien estuvo en Beirut en aquel entonces.
Deben entender que este es un documental, no una película. Es un documental especial, animado y creado con una técnica especial en este tipo de efectos.
La verdad es que es simplemente impresionante, uno de los mejores documentales que he visto, la técnica es impresionante y la historia que muestran, sobre todo el final es simplemente desgarradora.
El titulo de la película se toma de una de las escenas en el documental. Pueden leer toda la información y de donde saque el review en esta dirección Vals Im Bashir
Pueden ver mas información sobre los sucesos en este link de Wikipedia Sabra and Shatila massacre
Torrent Link
Vals Im Bashir (Waltz With Bashir) DVD Rip
Nominada al Oscar. 18 premios ganados y otras 18 nominaciones.
Le doy un Rating:
En IMDB le dan un Rating:
Haz Click aqui para enviar a un amigo