4 Months 3 Weeks And 2 Days (4 luni, 3 saptamâni si 2 zile) (2007)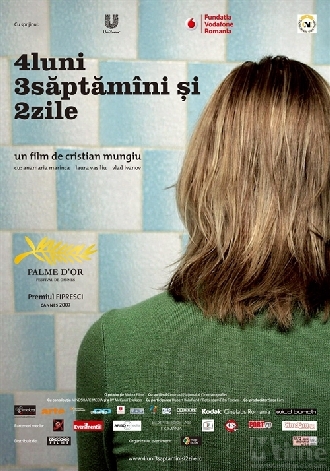 Rumanía, son los últimos días de la dictadura comunista (1987) y Otilia (Anamaria Marinca) estudia medicina.
Ella vive en una especie de comunidad para estudiantes, su compañera es Gabriela 'Gabita' Dragut (Laura Vasiliu).
Gabita esta embarazada, con su edad, sin haberse casado, bajo un régimen comunista, su cultura, son demasiados aspectos que tener en cuenta para decir no al nacimiento de un niño bajo estas circunstancias. Como si fuera poco ya tiene 4 meses de embarazo, si conseguir un doctor que le ayude con el aborto, conseguir uno que le ayude bajo estas circunstancias es aun mas dificil.
Pero la la verdadera protagonista de este drama es Otilia, quien es la amiga que le ayudara a llevar a cabo esta misión. Sin dudas este hecho afectara su amistad para siempre y sera un secreto jamas contado.
Las actuaciones son magnificas y la historia siendo bastante sencilla es simplemente extraordinaria. La manera en que AnaMaria muestra como se comportaría una persona en estas circunstancias son increíbles
Si tienen la oportunidad de verla no se la pierdan.
PD: Por si se lo preguntan, el titulo viene dado por el tiempo del feto.
Disfrútenla!
Torrent Link
4 Months 3 Weeks And 2 Days (2007) DVD Rip
Nominada al Golden Globe. 20 Premios ganados y otras 13 Nominaciones.
Le doy un Rating:
En IMDB le dan un Rating:
Haz Click aqui para enviar a un amigo