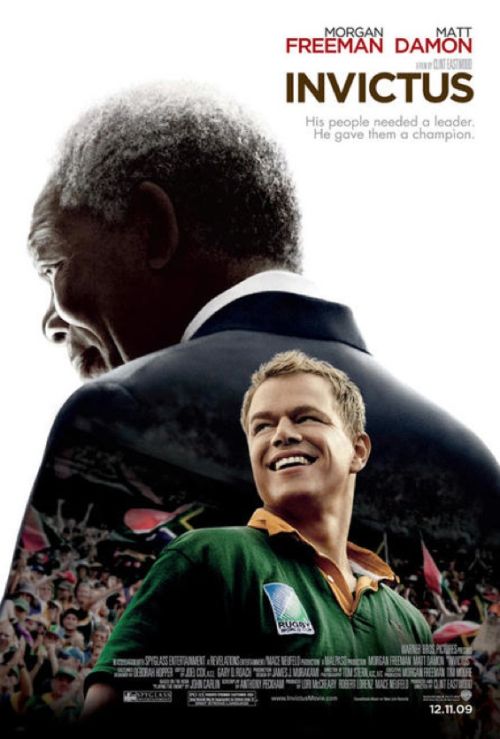 Lo primero que cabe resaltar de esta película es su director, el señor Clint Eastwood, yo se que el rey midas se le había apodado ya anteriormente a Tom Hanks, pero wau es que lo que este señor toca se convierte así como por arte de magia (bueno seguro de mucho trabajo) en una obra de arte.
Desde que salio Million Dollar Baby, Luego Flags of our father y Letters from Iwo Jima, mas Changelling y Gran Torino simplemente no deja de sorprenderme.
La trama nos cuenta la vida de Nelson Mandela (Morgan Freeman) en los acontecimientos que se dieron en 1995 durante la copa mundial de Rugby. La historia esta basada en el libro Playing The Enemy: Nelson Mandela And The Game That Changed a Nation de John Carlin.
Todo comienza cuando en un partido Mandela se da cuenta que las personas de color en un juego de Rudby están en contra de su propio equipo porque estos son blancos, el se da cuenta que aquí radica el principal problema de su país, el mismo no tiene la unión que necesita para salir adelante.
Poco a poco comienza a empaparse del juego y así conoce a Francois Pienaar (Matt Damon), quien es el capitán del equipo de su país. En principio este equipo no tiene chance contra ningún otro, pero la determinación, la inspiración y el coraje formaran parte para cambiar la historia para siempre.
Es interesantisimo ver todo este proceso de unión que se dio en aquel entonces, como todo el mundo vio el Rugby aunque se trataba de un deporte poco tradicional allá, de como de forma colectiva se fueron inspirando desde el presidente, al capitán, a los demás jugadores y por ultimo a las personas.
Invictus es el nombre de un poema el cual Mandela descubrió cuando estuvo preso y que le dio las fuerzas para perdonar a aquellos que lo encarcelaron. El perdón fue mas grande que todo lo demás. Una historia extraordinaria.
Torrent Link
Invictus (2009) DVD-SCR
Trailer Oficial

Nominada a 3 Golden Globles. 3 Premios ganados y otras 8 nominaciones .
Le doy un Rating:
En IMDB le dan un Rating:
Haz Click aqui para enviar a un amigo