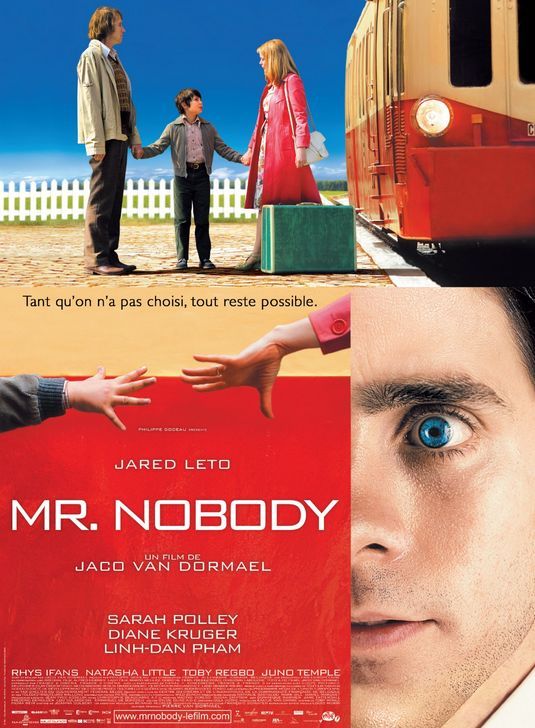 "Todo habría podido ser cualquier otra cosa…
…y habría tenido exactamente el mismo sentido."
Tennessee Williams.
Esta la tenia por ahí desde hace mucho, en algún momento me había llamado la atención pero no le hice caso, algo leí o alguien me comento al respeto y decidí ponerme a verla. Se convirtió en una de las mejores películas que he visto en mi vida.
Nemo Nobody (Jared Leto) tiene mas de 100 años de vida, es el ultimo humano mortal en el año 2092 y esta a punto de morir. Recluido en una especie de clínica futurista un periodista se cuela para entrevistarlo y este comienza a contarle de sus vidas, si plural, vidas. Nemo le narrara sus 3 vidas, comprendidas por 3 amores, 3 esposas, 3 familias, 3 destinos; amparados en las posibilidades y opciones que tuvo y de las cuales no pudo elegir.
Sin embargo todos los caminos tienen el mismo principio, la necesidad de Nemo de permanecer con su Padre o su Madre cuando estos deciden separarse. Después de aquí todo se contrae y se expande como el mismo universo y tal vez el tiempo mismo. La noción de escoger (Matrix), la importancia o no de tomar una decisión y a lo que esto conlleva estés al tanto o no.
En si la historia es un poco compleja, ya que salta de un fragmento a otro ambientado en varios tiempos diferentes, las posibilidades de lo que pudo ser al conocer a Anna (Diane Kruger/Juno Temple), a Elisa (Clare Stone/Sarah Polley) y a Jean (Linh Dan Pham/Audrey Giacomini). Y de esta forma va dando saltos, mostrándonos las infinitas posibilidades de una elección. Combinan estos con una especie de documental donde se nos explica el Big Bang, La gran contracción (the Big Crunch), la superstición de la paloma/pichón (superstition of the pigeon), la complejidad de la mecánica cuántica y la teoría de las super cuerdas.
Como ven es una película muy inteligente, no se si pretende que este sera su publico pero sin dudas muchos conocimientos expresados aquí requieren un conocimiento previo, sin embargo estoy seguro que no es necesario teniendo en cuenta que esto es solo una parte y que lo mas interesante esta en las historias mismas.
La experiencia cinematográfica no pudiera ser mas placentera, los efectos especiales son simplemente maravillosos, la historia perfecta y el soundtrack exquisito hasta ultimo momento. De verdad tenia mucho que no disfrutaba de una producción tan mágica como esta, en su momento me recordó Eternal Sunshine Of The Spotless Mind mezclada con The Fountain, pero sin dudas me quede corto en este sentido.
Buscando Reviews encontré uno que mencionaba un comentario en Youtube y el cual transcribo mas abajo :
"If The Fountain, Benjamin Button, The Eternal Sunshine Of The Spotless Mind and Big Fish meet and had a baby…..and in the mean while The Butterfly Effect and The Story Of Everything (part of the Discovery channel documentary "Into the Universe with Stephen Hawking") meet and had a baby…. then by chance these 2 babies meet and f**d…this right here would be their child."  There really is no other way to describe it.
Traducciendo
"Si de Fountain, [The Curious Case Of] Benjamin Button, The Eternal Sunshine Of The Spotless Mind y Big Fish se conocieran y tuvieran un Hijo..y mientras tanto The Butterfly Effect y The Story Of Everything (Parte de un documental de discovery channel "Into the Universe with Stephen Hawking") se conocieran y tuvieran un hijo…y por casualidad esos 2 niños se conocieran y tuvieran sexo, esta sin dudas fuera su hijo."
Yo les agregaría un poco de la película The Fall y del documental "Elegant Universe" pero sin dudas que el sentir se mantiene.
Les exhorto a que consigan esta preciosa obra y disfruten de la misma, dudo que se arrepientan. Tal vez como para mi, se convierta en un clásico instantáneo y una de sus películas favoritas de todos los tiempos.
Mágica y evocadora por demás, para esto es que el cine fue creado y por lo cual existe.
Descargar Gratis vía Torrent Link
Mr. Nobody (2009) DVD-Rip
Mr. Nobody (2009) HD
Trailer Oficial

4 Premios ganados y otras 3 nominaciones.
Le doy un Rating:
En IMDB le dan un Rating:
Haz Click aqui para enviar a un amigo