His Name Was Jason: 30 Years of Friday the 13th (2009) (TV)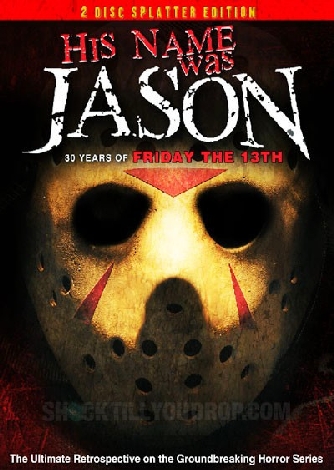 30 años han pasado desde que aquella película con subjetivo titulo Friday the 13th y ubicada en el famoso lago Crystal naciera un mito basado en la figura de Jason Voorhees.
Nada mas que una terrible matanza, iniciada en primera instancia por su madre que había quedado trastornada tras la muerte de su hijo porque unos adolescentes no estaban prestandole la debida atención, al final ella perece pero tal parece que solo sirvió para dar nacimiento a uno de los asesinos en serie mas terroríficos que haya tenido el cine.
Este documental cuenta de donde surgió la idea, como fue todo, los asesinatos, las historias de las ya 12 películas sobre la figura de Jason, también habla del nuevo remake para comenzar la saga que saldrá ahora mismo en el 2009, adecuando la historia a los nuevos tiempos y dando a conocer a Jason a una nueva generación.
Contada por varios de sus protagonistas, directores, guionistas, productores y conducido por Tom Savini.
Para todos los fanáticos de Jason y del terror en generar o que tan solo quieran conocer este lado del cine.
Disfrútenlo!
Torrent Link
His Name Was Jason: 30 Years of Friday the 13th (2009) DVD Rip
Le doy un [rating:7.5/10]
En IMDB le dan un [rating:7.2/10]
[email_link]