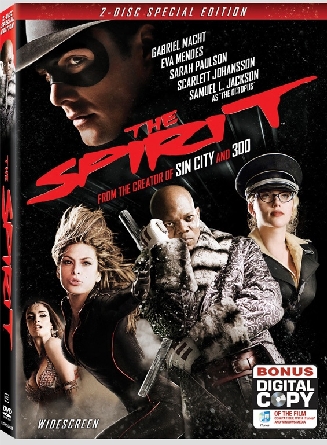 La película de The Spirit esta basado en el Comic creado por Will Eisner y nos relata la historia del ex-detective Dennys Colt (Gabriel Macht), quien luego de ser asesinado y enterrado con honor aparece nueva vez pero como un enmascarado que lucha por la justicia.
Su archienermigo, The Octopus (Samuel L. Jackson) fue quien le dio esta inmortalidad, gracias a un experimento que estaba probando, pero ahora le busca para terminar con su existencia.
The Spirit es amado ante todo por las mujeres, y en esta historia hay muchas, Morgenstern (Stana Katic) una super policía, Ellen Dolan (Sarah Paulson) una super doctora de la policía (quien es la ex-novia de Spirit), Lorelei Rox (Jaime King) la muerte, Plaster of Paris (Paz Vega) una asesina en serie, Silken Floss (Scarlett Johansson) la mano derecha de The Octopus y por ultimo Sand Saref (Eva Mendes) su antiguo amor, de The Spirit, quienes le dan un pequeño gusto a la película.
La verdad es que parte de lo mejor de esta película, la técnica estilo Sin City, le quita mucho, osea no hay nada nuevo. Es simplemente una historia contada con elementos ya conocidos.
Divertida?, increíblemente es una de las mejores cosas que tiene la película, a mi me hizo reír con muchas escenas, unos experimentos en forma de humanos que sirven a The Octopus, con la gracia que hablan estos y todos los demás es lo mejor que tiene The Spirit.
Disfrútenla!
Torrent Link
The Spirit (2008) DVD Rip
The Spirit (2008) HD
Le doy un Rating:
En IMDB le dan un Rating:
Haz Click aqui para enviar a un amigo