My Family And Other Animals (2005)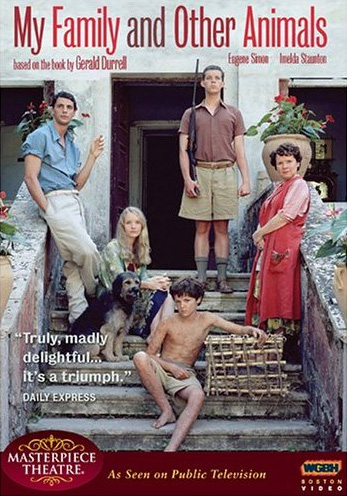 My Family And Other Animals y es una película creada para televisión y basada en el libro del mismo nombre de Gerald Durell. La misma es una historia autobiográfica aunque con elementos que han sido exagerados para darle un tono de burla y sátira.
Compuesta por 2 hermanos mas, una hermana y su madre la familia Durell se van para una isla griega llamada Corfu, donde vivirán por los próximos 5 años (1935-1939). La misma por necesidad y por cambios de parecer vive en diferentes villas a lo largo de su estadía en el paradisíaco lugar, cada quien en la familia tiene intereses diferentes.
El pasatiempo favorito de Gerald consiste en un amor desenfrenado por la vida salvaje, conociendo todos los insectos y animales de la zona, convierte la casa en un verdadero zoológico. Mientras su madre se pasa el tiempo en la cocina, su hermano Larry se dedica a la escritura y a su vida como aristócrata loco. El otro hermano loco, Leslie desarrolla un interés por las armas de fuego y "los botes", mientras que Margo se dedica a encantar a los jóvenes de su alrededor, mientras se mezcla con no lo mas adecuado para ella.
Una historia salvaje y entretenida es lo que van a tener con esta película, como ya dije en primer lugar, creada para la Televisión. La historia transcurre rápidamente y hay otros personajes que harán de la misma una comedia suave y ligera.
No se la pierdan si tienen la oportunidad de verla.
Trailer Oficial
ED2K Link
My Family And Other Animals (2005) DVD-Rip
Le doy un Rating:
En IMDB le dan un Rating:
Haz Click aqui para enviar a un amigo