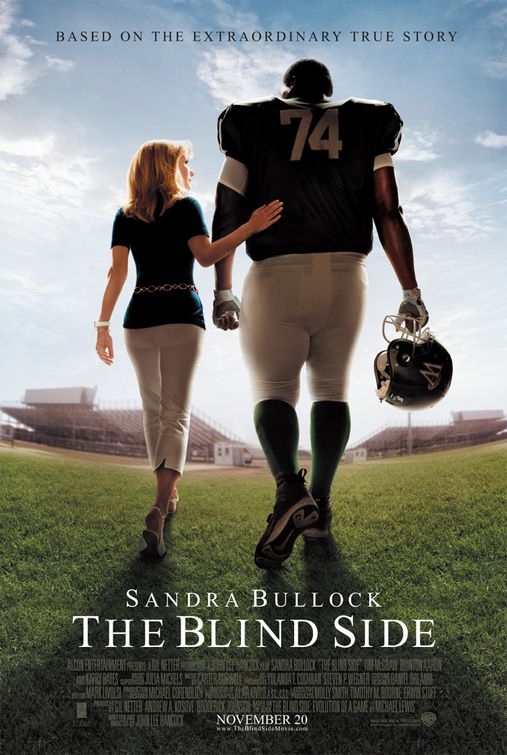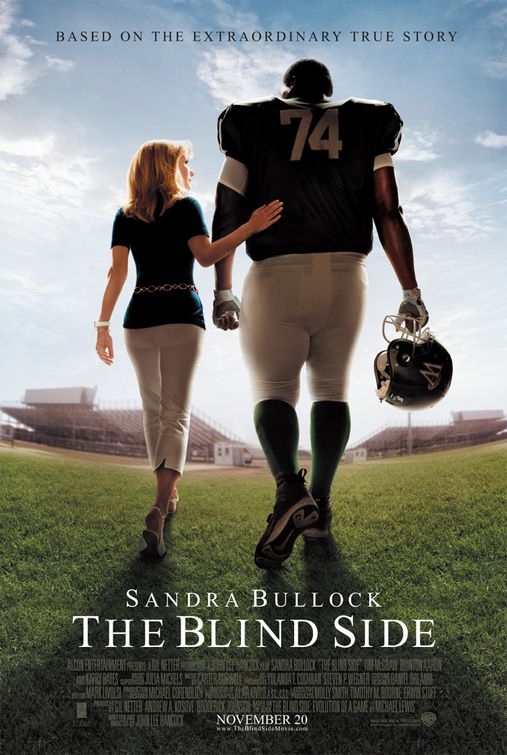 Basado en el libro The Blind Side: Evolution of a Game de Michael Lewis, de Blind Side nos narra la historia de Michael Oher (Quinton Aaron) un chico que recién en el 2009 llego a la NFL. Aunque es una historia real en la película hay elementos ficticios y que han sido cambiados.
Michael es un chico que ha tenido una vida muy pero muy difícil, su madre es una adicta que ha tenido 12 hijos y ni siquiera sabe de que padre. En su corta vida ha estado en diferentes sitios de cuidado pero siempre se escapaba y regresaba a su casa.
Sin tener donde dormir, ropa, o que comer aparte del alimento de la escuela (donde llego por mucha suerte), Michael deambula por los lares del gimnasio hasta que Sean (Tim McGraw) y Leigh Anne Tuohy (Sandra Bullock) lo llevan a su casa.
En principio ellos no planearon si iba a estar por mucho tiempo, actuaron por instinto y ofrecieron un lugar caliente donde dormir y comer. En principio la relación es difícil por lo cerrado que es Michael pero a medida que pasa el tiempo y con el trato de Leigh Anne las cosas cambiaran.
Al final de la historia los sucesos no dejan de traer problemas pues con su posible entrada a la universidad se abre una investigación para saber si Sean y Leigh Anne adoptaron a este joven con el fin de sacarle provecho y llevarlo a la universidad donde ellos mismos habían estudiado y con la cual mantenían relación. Igual el coach días después consiguió un trabajo en dicha universidad. Al final las cosas se aclaran y es mas que entendible la razón.
Mas allá de la trama debo hablar de la excelente manera que fue llevada esta historia, aunque tiene una carga dramática muy pesada, sobre todo en el comienzo, la historia no es para ponerte a llorar cada 5 minutos, muy al contrario el director supo agregar una carga cómica que permite que te identifiques con el sufrimiento pero sin caer en el típico cliché de Hollywood haciendo que la historia sea llevadera desde el principio hasta el final.
Sandra Bullock ofrece una actuación mas que convincente seguramente la mejor de su carrera como actriz y un papel muy bueno el que le corresponde.
SJ (Jae Head) , hahaha, hay que ver las vainas de este carajito para que ustedes disfruten. Es un niño que tendría que definirle como un "Attention Whore Kid", le encanta llamar la atención y si que sabe hacerlo.
Una de las mejores películas de la temporada, excelente historia, y una excelente forma de contarla y llevarla a la pantalla grande.
No dejen de verla.
Torrent Link
The Blind Side (2009) DVD-SCR
Trailer Oficial

Nominada a los Golden Globles. Otras 5 nominaciones .
Le doy un Rating:
En IMDB le dan un Rating:
Haz Click aqui para enviar a un amigo