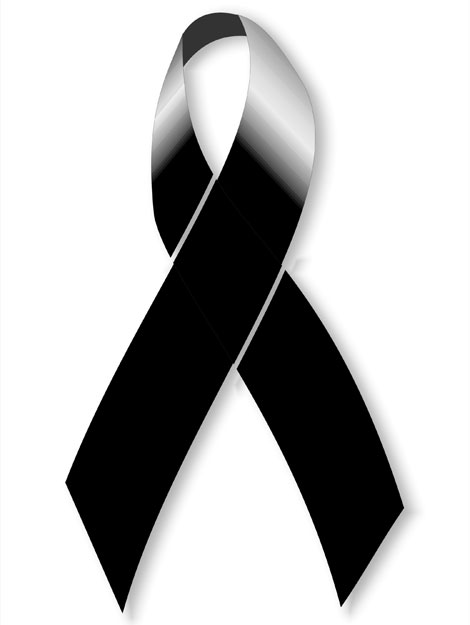 Si, así es. Hoy Santo Domingo amaneció llorando, gritando en un clamor al unisono después que el excelentísimo Sr. presidente de la República Dominicana decidiera indultar a Miriam Vivian Lubrano, Pedro Franco Badía, Antonio Marte, presidente de la Confederación Nacional de Transporte (Conatra), Milcíades Amaro Guzmán y Gervacio de la Rosa.
Así que en apoyo la iniciativa de los Bloggers dominicanos de vestir su Blog de Negro, De usar un listón Negro o de usar el Puño negro.
Mientras dure mi indignación dejare en la parte superior derecho de la pantalla mi lazo negro.
Aquí tienen el listado de Bloggers que se han expresado en torno a la medida.
* Apaguen Y Vámonos, Nos vestimos De Negro – Ahí e' que prende.
* Hoy la Justicia se viste de negro… – Bracuta.
* Aquí me apeo – Duarte101.
* No a la Impunidad – Dawn Guzmán.
* Yo también me visto de negro – Alexei Tellerias.
* Vestida de negro en Navidad – Maria Isabel Soldevila.
* Constanza News – Blogueros indignados.
* Me visto de negro – La Saeta.
* De negro – El Príncipe Con Esteroides.
* Vestido de Negro – Percio Acevedo.
* Este blog se viste de negro – Un Príncipe Mestizo.
* En contra de la Impunidad – Fuego A La Lata.
* Mi Blog De Luto – Mi Vinculo Adictivo.
* Contra La Impunidad – Julio Tallo.
* Indignación – Rocha To The World.
* Vestido De Negro – Luis Market.
* Vestido De Negro – Alvarito.
* De negro Por Luto – Claudio Cornelio.
* Vestido De Negro – Mr. Corleone.
* Blogeros Contra La Impunidad – Blog Arias.
* Contra La Impunidad – Angel Fernandez.
* Blogeros De Luto – Periodismo Dominicano.
* No mas Impunidad – Natanael Disla.
* Que Indignación Siento – Ahora Me Entero.
* Hay que cerrar el país – Así veo las cosas.
* Ejemplo de Corrupción E Impunidad – Mi Mundo.
* No A La Impunidad – Carrito Rojo De Carrera.
Haz Click aqui para enviar a un amigo