Turn The River (2007)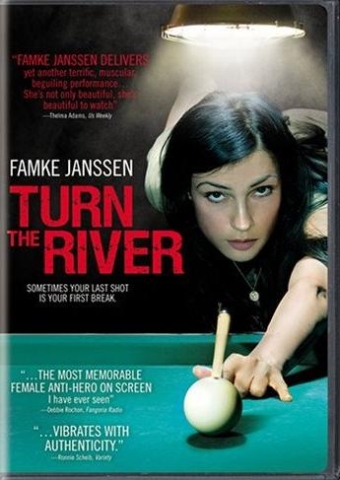 Kailey Sullivan (Famke Janssen) es una jugadora de billar la cual la vida no le ha jugado a su manera. Alejada de su hijo, luego de perder la custodia ante su ex-marido, busca la manera de estar cerca de este sin que los demás se den cuenta.
Su hijo, Gulley (Jaymie Dornan) es un chico inteligente, pero que por mas que lo intenta nunca puede complacer a su padre. Este le hostiga y le hace saber que pudiera ser mejor por mas bueno que sea, cosa que no hace de la mejor manera.
En medio de ellos dos, se encuentra Teddy Quinette (Rip Torn) quien es el dueño del billar local y quien se encarga de manejar la comunicación entre los dos, en forma de cartas que van dejando y recogiendo en el local.
Kailey buscara la forma de vengarse del mal que le hicieron al separarla de su hijo, para esto necesitara de mucho dinero, ya que su plan es llevárselo a Canadá y vivir de la forma en que siempre quiso. Como lo mejor que sabe hacer es jugar billar, buscara la forma a través de apuestas para recaudar el dinero.
Lograra hacer las cosas bien y estar con su hijo como siempre lo ha deseado?.
Disfrútenla!
Torrent Link
Turn The River (2007) DVD Rip
3 Premios Ganados y 1 Nominacion.
Le doy un Rating:
En IMDB le dan un Rating:
Haz Click aqui para enviar a un amigo