The Man From Earth (2007)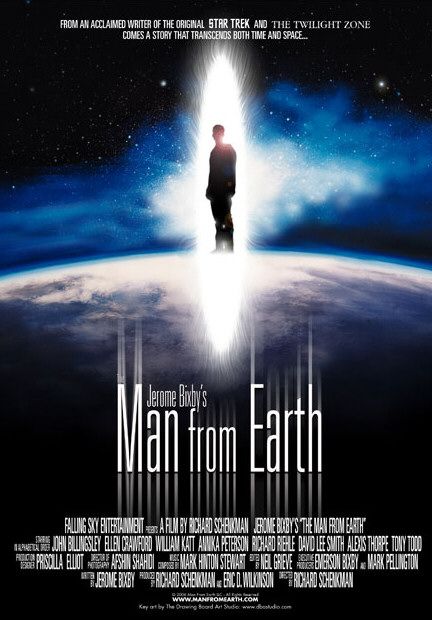 Una pequeña e improvisada fiesta de despedida para un profesor de una cátedra universitaria de historia se convierte en un interrogatorio de carácter científico cuando el anfitrión, Jhon Oldman (David Lee Smith), revela que es un inmortal quien lleva 14,000 años vagando en la Tierra. Esta es la premisa de tan interesante producción.
Estamos hablando de un grupo de intelectuales entre Los cuales se encuentra Harry (John Billingsley) un biólogo; Dan (Tony Todd), un antropólogo; Art Jenkins (William Katt), un arqueólogo; Will Gruber (Richard Riehle), un psicólogo; Sandy (Annika Peterson), una historiadora; y Edith (Ellen Crawford), una devota cristiana.
Todos ellos entienden obviamente que se trata de una broma pero comienzan a seguir el juego y se dejan llevar de la conversación. Primero buscando las condiciones en que algo como esto pudiera ser real, mas luego un intenso interrogatorio que nos lleva a través de la Pre-historia y mas luego por la historia, sumergiéndonos en un mundo de ciencia y conocimiento que resultan increíbles.
Las dudas surgen y las respuestas de Jhon son sumamente convincentes, pero mas que nada consiguen la atención de todo los presentes. La incredulidad toma parte en la conversación, va y viene de un lado a otro pero siempre maravillando a los distinguidos incrédulos que lanzan pregunta tras pregunta, cuestionando todo.
Poco a poco llegan a momentos claves de la historia que pondrán los pelos de punta a cualquiera y que traerá consigo polémicas discusiones.
Hay muchas maneras en que esta película puede ser alabada, pero me gusta hablar de los diálogos estructurados y elaborados de una manera muy metódica, la forma en que se dan las discusiones y con la altura que los debatientes interactuán. Sin lugar a dudas puedo decir que es una de las producciones mas inteligentes que he visto. En términos de ciencia ficción como tal es clase aparte ya que no se trata de efectos especiales sino de ideas como tales. Simplemente no hay un solo efecto especial, bueno es tanto así que toda la trama transcurre en una sala de una casa semi-vacía.
Si a usted no le gusta el bla bla bla o no le interesa pensar mucho y/o la ciencia desde un mero contexto filosófico aléjese de la misma. Si usted es de alguna manera un fanático religioso tampoco la vea.
Torrent Link
The man from earth (2007) DVD-Rip
Trailer Oficial

Ganadora de 2 premios y otras 2 nominaciones .
Le doy un Rating:
En IMDB le dan un Rating:
Haz Click aqui para enviar a un amigo