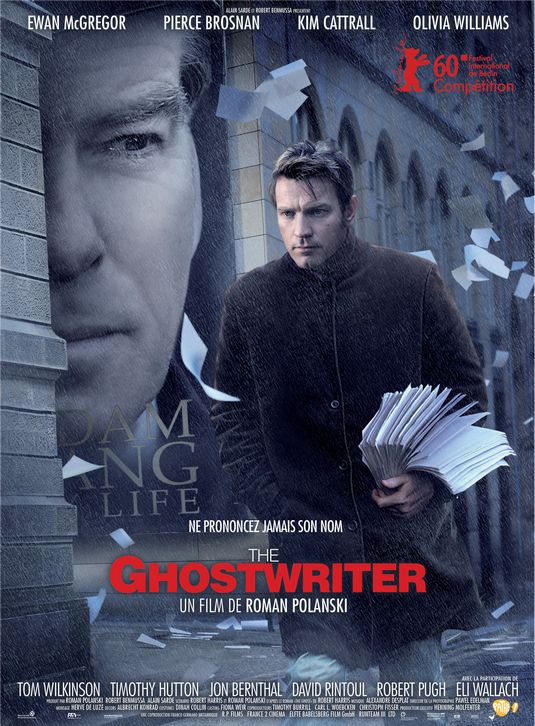 Después de tratar de evitar el encargo, el escritor (Ewan McGregor) acepta la culminación de las memorias del antiguo primer ministro británico Adam Lang (Pierce Brosnan), esto después que el anterior escritor (el cual llevaba un largo tiempo ayudando a Lang), muriera en extrañas circunstancias que no permitan diferencial entre accidente o suicidio.
Es pleno invierno y el "escritor fantasma" (como se les llama a este tipo de escritores a los que no se dará crédito) vuela hacia una isla en la costa este de los Estados Unidos. Una hermosa casa con vista al mar, con una impresionante belleza y aun mas desolación es el lugar ideal para cualquier escritor.
Al día siguiente de llegar las cosas dan un giro dramático; Lang es acusado, por un ex-miembro de su antiguo gabinete, de cometer crímenes de lesa humanidad, al autorizar la captura ilegal de sospechosos de terrorismo para su entrega posterior a la CIA donde los mismos fueron torturados.
Una controversia tan grande atrae a la prensa y a un gran grupo de fanáticos que se apostan contra la puerta de la residencia. Todo esto conlleva un cambio en los planes del escritor, el cual empieza a indagar sobre el pasado de Lang y sobre las circunstancias extrañas en las cuales murió el antiguo escritor.
Un muy buen Thriller, muy bien realizado y donde también me encanto el ambiente generado por la música. El final no pudo ser mas brillante en todos los sentidos.
No pueden dejar de verla. Disfrútenla
Descargar Gratis vía Torrent Link
The Ghost Writer (2010) DVD-Rip
The Ghost Writer (2010) HD
Trailer Oficial

1 Premio Ganado y 1 Una Nominación.
Le doy un Rating:
En IMDB le dan un Rating:
Haz Click aqui para enviar a un amigo